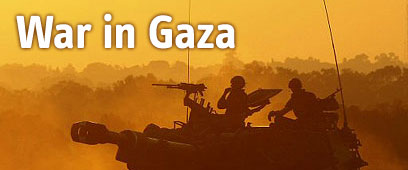 IDF troops in Gaza
Photo: Matan Hakimi, IDF Spokesman's Office
The National Security Cabinet voted Wednesday in favor of continuing the IDF's military operation in the Gaza Strip. Meanwhile, Jerusalem made it clear that Israel has not yet accepted the Egyptian-French ceasefire imitative.

The cabinet's decision implies that Israel believes that the objectives outlined for the Gaza operation have not yet been achieved. Therefore, in the coming days the IDF is expected to continue its ground offensive with the assistance of the Air Force and Navy. Israel's Gaza operation aims to deter Hamas from firing rockets on the country's south in the future.

Gaza War

French president reports Israel, Palestinian Authority accepted plan for ceasefire presented by Egypt's President Hosni Mubarak Tuesday. Earlier Wednesday Olmert's office says Israel views dialogue as positive step. Hamas: Truce offer unacceptable

Israel aims to improve security realities in the south, and expresses its gratitude to the presidents of France and Egypt for their efforts to promote a solution that would end Gaza terror activity, a statement by Prime Minister Ehud Olmert's office said. The statement stressed that Israel endorses Israeli-Egyptian dialogue in order to advance the issue.

However, the other parts of Mubarak's ceasefire statement, including his intention to invite Hamas to engage in dialogue once a truce takes place, have not been endorsed by Israel.
Delegation to Egypt
In the face of growing international pressure, Israel appeared to be considering the possibility of securing a ceasefire through diplomatic channels, namely via Egypt's proposal, which has been endorsed by Washington.

The PM's Office said that Israel would be willing to discuss the fight against terror and arms smuggling with Egypt, but that this did not mean it would be willing to negotiate with Hamas or discuss the opening of Gaza border crossings.

Israel plans to send a delegation to Egypt to discuss Mubarak's initiative. The delegation will be headed by Amos Gilad, the director of policy and political-military affairs at the Defense Ministry, and Shalom Turgeman, the prime minister's advisor.

Israeli officials made it clear that the talks with Egypt in no way commit Israel to accepting Mubarak's initiative, nor do they presuppose a treaty with Hamas similar to the truce that came to an end December 19.