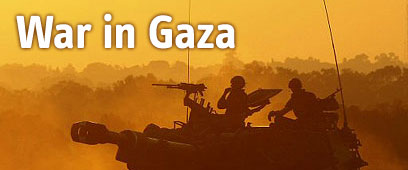 Sarkozy and Mubarak
Photo: AFP

Barak and Olmert
Photo: Reuters
Sarkozy: Israel, Palestinians accepted Egypt-led truce plan
French president reports Israel, Palestinian Authority accepted plan for ceasefire presented by Egypt's President Hosni Mubarak Tuesday. Earlier Wednesday Olmert's office says Israel views dialogue as positive step. Hamas: Truce offer unacceptable
French President Nicolas Sarkozy said on Wednesday Israel and the Palestinian Authority had accepted a truce plan for Gaza announced by Egypt on Tuesday.
"The president is delighted by the acceptance by Israel and the Palestinian Authority of the Franco-Egyptian plan presented last night in Sharm el-Sheikh by President Hosni Mubarak," said a statement from Sarkozy's office.
"The head of state calls for this plan to be implemented as quickly as possible for the suffering of the population to stop."
Also on Wednesday Israel expressed satisfaction with the Egypt and French-led initiatives for a ceasefire in Gaza.
The cabinet convened earlier to discuss the alternatives regarding the fighting, namely either expanding the ground offensive or adopting plans for a truce.
The Prime Minister's Office said following the meeting that "Israel is working to improve the security reality in its southern area and is grateful to the presidents of France and Egypt for their efforts to broker an end to the terror and weapon smuggling emanating from Gaza.
"Israel sees the dialogue between Egyptian and Israel delegates, meant to advance these issues, as positive steps."
Olmert and defense Minister Ehud Barak will send senior representatives to Egypt in order to look into President Hosni Mubarak's offer.
Meanwhile, Osama Hamdan, a Hamas representative in Lebanon, said that the Egyptian-French initiative is unacceptable and that new ideas should be discussed.
Hamdan said, "There is no need to get excited over the Israeli agreement that was published. Israel's objective is to gain time in order to continue its ofensive."
The cabinet ministers heard briefings from senior defense establishment officials on the Gaza campaign, ahead of the conclusion of the second stage of Operation Cast Lead. The cabinet will soon be required to decide whether to expand the military operation in the Strip.
Sarkozy on Wednesday branded the escalation in Gaza "a global problem" and expressed hope that a truce would be reached soon.