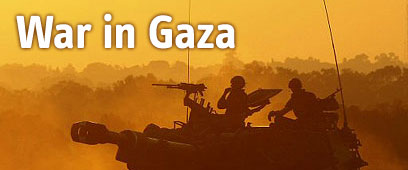 Optimistic - Yusuf
Photo: Sami Abu-Salim
A senior Hamas source in Gaza says the group is optimistic about the prospect of securing a ceasefire with Israel in the near future.

"We can secure a truce within 48 hours," an aide to Hamas Prime Minister Ismail Haniyeh told Ynet.

Ahmed Yusuf, Haniyeh's spokesman and political advisor, is a party to ongoing consultations in Gaza. Meanwhile, a delegation headed to Cairo to discuss the Egyptian-French ceasefire proposal. However, Israeli officials estimate that Hamas' political leadership in the Strip does not fully dictate the military moves on the ground.

Gaza Op

War not ending yet: National Security Cabinet approves continuation of military operation in Gaza Strip in coming days; Jerusalem endorses ceasefire dialogue but rejects parts of President Mubarak's truce initiative

Still, Yusuf sounded optimistic in his talk with Ynet, saying that "in light of the diplomatic efforts being undertaken at this time, I am convinced that we shall be able to come up with a formula agreed upon by both sides within 48 hours."

However, the Hamas representative said the group still demands that Israel cease its attacks in Gaza and lift the blockade imposed on the Strip.

"In addition, we demand that the international boycott on Hamas end," he said.

'We have no choice but to win'

Hamas will be ending its rocket fire on Israel the moment the IDF ends its offensive, Yusuf said, characterizing the rocket strikes as a "response to Israel's attacks."

"The moment Israel stops killing our people en masse, we shall of course end the fire," he said. Turning his attention to Israel's demand for an international presence on the Gaza-Egypt border, he said: "We're still weighing the advantages and drawbacks of this move. We don't wish to replace the Israeli occupation with international occupation."

However, Yusuf's answer reflects the stance of Hamas' so-called pragmatic camp. In a talk with Ynet, a member of the group's military wing rejected the possibility of any kind of foreign presence on the Gaza border. Meanwhile, the Popular Resistance Committees declared that it would view foreign soldiers on the Gaza border as enemies and proceed to attack them.

Despite the blow sustained by Hamas in the war, Yusuf refused to concede defeat.