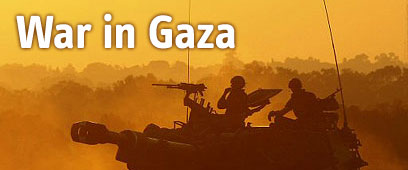 Olmert, Barak tour Gaza Division
Amos Ben Gershom, GPO
Prime Minister Ehud Olmert said Thursday that the military operation in Gaza was set to continue as the reality in Israel's south has not sufficiently changed yet. During a visit to the Gaza Division the prime minister said that the political echelon's decisions depended on the ability to ensure that calm would once again reign in southern Israel.

Next Stage

In light of diplomatic initiative to reach truce in Gaza, senior IDF officials stress importance of continued military operation if Israel wishes to enhance its deterrence

"We are not there yet and the IDF hasn't been asked yet to do whatever it takes get to this point. This decision is still ahead of us," he stated.

Olmert was accompanied by Defense Minister Ehud Barak, IDF Chief of Staff Lt.-Gen. Gabi Ashkenazi and Southern Command chief Maj.-Gen. Yoav Galant in his visit. They were briefed by the division commander and other officers on the developments on the ground, and Olmert said he was deeply impressed with the units' achievements and the objectives attained thus far.

Earlier Thursday Barak toured the Field and MOUT (Military Operations on Urban Terrain) Training Center in Zeelim Base and watched the training of reserve units that were called up for service this week as part of Operation Cast Lead.

"The operation in Gaza is ongoing," Barak said at the end of the visit. "A two-year intensive effort that included training, amassing supplies, renewing equipment and acquainting the commanders with the necessary issues has come to fruition," he added.

The defense minister met with reserve regiment commanders and said that they were "very satisfied with the level of training and preparations, and are ready for the missions that await them in Gaza."

Asked about the rocket attack on northern Israel earlier in the day, Barak only said, "We are vigilant and we will react according to developments."