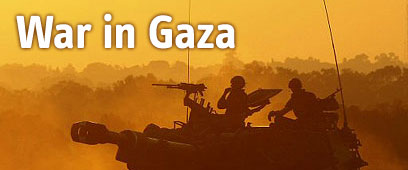 In agreement. Sarkozy and Merkel
Photo: AFP
German Chancellor Angela Merkel said on Thursday she agreed with French President Nicolas Sarkozy on the conditions for a ceasefire in Gaza and that making sure Israel had guarantees on security was vital.

Political Echelon

Prime minister tours Gaza Division, says IDF has not been asked yet by political echelon to do 'whatever it takes to ensure calm in south.' Barak responds to rocket fire on north: We are vigilant and will respond according to developments

"The key is having guarantees for Israel's security," Merkel told reporters after meeting Sarkozy in Paris.

The French president said the rocket fire on Israel "must stop," adding that the "escalation must be curbed and Israel must receive guarantees for its security and lave Gaza, the sooner the better.

"Angela Merkel and I believe that Israel should be guaranteed that no arms will be smuggled across the Egypt-Gaza border, and once these guarantees are provided, it must immediately withdraw from Gaza," he said.

Meanwhile, Palestinian officials in Damascus, Syria said they were rejecting the Egyptian ceasefire proposal as it does not offer a "valid basis" for a solution to the crisis.

Amos Gilad, head of the Defense Ministry's Security-Diplomatic Bureau, and Shalom Turjeman, a top aide to Israeli Prime Minister Ehud Olmert, arrived in Cairo Thursday morning for Egyptian-brokered talks on the ceasefire proposal after the UN Security Council failed to agree on action to end the escalating crisis in Gaza.

Egypt's top diplomats said Wednesday that talks would be held separately with representatives of Israel, the Palestinian Authority and Hamas on the Egyptian-French ceasefire initiative.

Egyptian Foreign Minister Ahmed Aboul Gheit said there would be no meeting between Israel and Gaza's Hamas rulers, whose arrival date in Cairo is uncertain.

International efforts to bring the Gaza conflict and broker a ceasefire have gained steam.

Aboul Gheit said Egypt will be asking Israel and Hamas for a temporary ceasefire "that would lead to a consolidated permanent ceasefire."

Then, he said, negotiations would take place with the European Union and the Palestinian Authority, which lost control of Gaza, on how to open the Rafah crossing on the Egyptian-Gaza border.