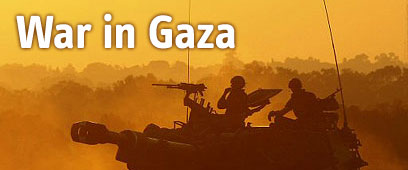 Rice. Drops objections
Photo: Reuters
The United States, Britain and France have dropped objections to a binding UN resolution on the fighting in Gaza and are working on one that calls for an "immediate ceasefire," diplomats said on Thursday.

UN Action

Deliveries to besieged Strip suspended after IDF tank fire kills one of UN's Palestinian drivers as he went to pick up a shipment. 'We've been coordinating with Israeli forces and yet our staff continues to be hit and killed,' UNRWA spokesman says

"We are looking at a resolution which would include a call for an immediate ceasefire, action to stop smuggling of arms (to Hamas) and open the border crossings," a Western diplomat said.

Arab countries have insisted that the UN Security Council must issue a binding resolution that would force Israel to end its military campaign in the Gaza Strip immediately.

Israel has opposed the idea of the Security Council passing anything on the Gaza crisis, whether it is a resolution or a non-binding statement.

The US delegation had also been opposed to a resolution but diplomats, speaking on condition of anonymity, said they had dropped their objections and were prepared to back a text that would require what US officials repeatedly describe as a "durable" ceasefire.

US Secretary of State Condoleezza Rice, British Foreign Secretary David Miliband and French Foreign Minister Bernard Kouchner met with Arab diplomats at the United Nations to discuss the draft text.

Rice told reporters there was no immediate agreement and gave no details about preparations for a draft resolution. She said only that the British had presented the Arabs with something that could form the basis of a "consensus text."

Arab delegations are studying the British-drafted text, which will likely undergo revisions, diplomats said. It was unclear when the 15 council members might have a final draft ready to put to a vote.