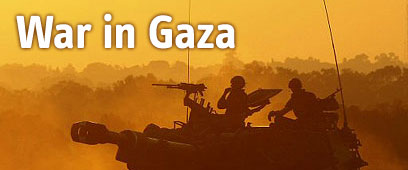 Evacuating the wounded in Gaza
Photo: AFP
The United Nations halted aid deliveries to the besieged Gaza Strip on Thursday, citing Israeli attacks on its staff and installations hours after it said tank fire killed one of its drivers as he went to pick up a shipment.
Aid Group
Aid group claims Israel refuses to allow rescuers reach sites in Gaza hit by IDF shelling and evacuate wounded
The United Nations has already demanded an investigation into Israel's shelling of a UN school in Gaza that killed nearly 40 people earlier this week. Israel and residents said militants were operating in the area at the time.
For a second straight day, Israel suspended its Gaza military operation for three hours to allow in humanitarian supplies. Shortly before the pause took effect, however, the UN said one of its aid trucks came under Israeli fire, killing the driver.
UN spokesman Adnan Abu Hasna said the UN coordinated the delivery with Israel, and the vehicle was marked with a UN flag and insignia when it was shot in northern Gaza. The Israeli army said it was investigating.
"The UN is suspending its aid operations in Gaza until we can get safety and security guarantees for our staff," spokesman Chris Gunness said. "We've been coordinating with them (Israeli forces) and yet our staff continues to be hit and killed."
The UN provides food aid to around 750,000 Gaza residents, and runs dozens of schools and clinics throughout the territory. They have some 9,000 locally-employed staffers inside Gaza, and a small team of international staffers who work there.
UN Secretary-General Ban Ki-moon issued a statement saying that he "condemns the IDF firing on a United Nations aid convoy in Gaza."
The statement said four local UNRWA staff members have been killed since the military operation began, and called on Israel to allow rescue workers to reach civilians in need of aid in Gaza.
Ban added that "UNRWA has been forced to suspend food distribution as it cannot guarantee the safety of its staff. The inability of the UN to provide assistance in this worsening humanitarian crisis is unacceptable."
As Israel pushed forward with the bloody offensive in the Gaza Strip, militants in Lebanon fired at least three rockets into Israel early Thursday, threatening to open a new front for the Jewish state. Israel responded with mortar shells.
The rockets from Lebanon raised the specter of renewed hostilities on Israel's northern frontier, just 2 1/2 years after Israel battled the Hizbullah guerrilla group to a 34-day stalemate. War broke out between Hizbullah and Israel in 2006 as Israel battled Palestinian militants in Gaza, on Israel's southern borders.
'Arms embargo on Hamas'
No group claimed responsibility. Lebanon's government condemned the attack, and Hizbullah — which now plays an integral role in Lebanon's government — denied any responsibility for the rocket fire, which lightly injured two Israelis.
In other Gaza violence, Israel killed at least 11 people, including three who were fleeing their homes, raising the death toll from its 13-day offensive to 699 Palestinians, according to Palestinian medical officials. Eleven Israelis have died since the offensive began Dec. 27.
The offensive is meant to halt years of Palestinian rocket attacks on southern Israel, but with roughly half the dead believed to be civilians, international efforts to broker a cease-fire have been gaining steam.
Despite the heavy fighting, strides appeared to be made on the diplomatic front with Secretary of State Condoleezza Rice saying the US supported a deal being brokered by France and Egypt.
While the UN Security Council failed to reach agreement on a cease-fire resolution, Egypt's UN Ambassador Maged Abdelaziz said representatives of Israel, Hamas and the Palestinian Authority agreed to meet separately with Egyptian officials in Cairo.
Israeli envoys traveled to Egypt on Thursday to discuss the proposal.
For Israel to accept a proposed ceasefire deal, "there has to be a total and complete cessation of all hostile fire from Gaza into Israel, and ... we have to see an arms embargo on Hamas that will receive international support," said government spokesman Mark Regev.
For its part, Hamas said it would not accept a truce deal unless it includes an end to the Israeli blockade of Gaza — something Israel says it is not willing to do. Israel and Egypt have maintained a stiff economic embargo on Gaza since the Hamas takeover.
The Palestinian Authority controls the West Bank while Hamas rules Gaza — two territories on opposite sides of Israel that are supposed to make up a future Palestinian state. Hamas took control of Gaza from forces loyal to Palestinian Authority President Mahmoud Abbas in June 2007.
Yitzhak Benhorin contributed to the report