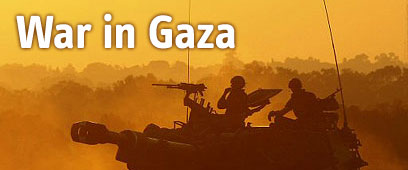 UN Security Council wants Gaza op to end
Photo: AP

Arab League's Amr Moussa
Photo: AP
WASHINGTON – UN calls for end to fighting: The United Nations Security Council approved the Gaza Strip ceasefire resolution by a 14-0 margin; the United States abstained in the vote. Notably, the word "Hamas" is not mentioned in the document at all.
The US abstained from voting because it wanted to see the outcome of Egyptian mediation efforts first, Secretary of State Condoleezza Rice said. Despite the abstention, Rice said the United States supported the contents of the resolution.
Gaza Op
Deliveries to besieged Strip suspended after IDF tank fire kills one of UN's Palestinian drivers. 'We've been coordinating with Israeli forces and yet our staff continues to be hit and killed,' UNRWA spokesman says
"The Security Council has provided a road map for a sustainable, durable peace in Gaza," Rice added.
"The United States thought it important to see the outcomes of the Egyptian mediation efforts in order to see what this resolution might have been supporting," she said. Earlier, Rice stressed that IDF soldier Gilad Shalit is still being held by Hamas and must be released.
Earlier, Israel's UN Envoy Gabriela Shalev said that "the international community must focus its attention on the cessation of Hamas' terrorist activity and make clear that a terrorist organization can never be a legitimate leadership."
'Immediate, durable ceasefire'
Resolution 1860 calls for an immediate end to the fighting between Israel and Hamas. The Security Council discussed the ceasefire proposal for more than four hours before bringing it up for a vote.
The UN resolution "Stresses the urgency of and calls for an immediate, durable, and fully respected ceasefire, leading to the full withdrawal of Israeli forces from Gaza." However, the text only requires Israel to fully withdraw from the Strip after a complete ceasefire goes into effect in the area.
Israel attempted to postpone the vote by 24 hours but failed. Israeli official were hoping that a delay would enable the IDF to secure more achievements in Gaza.Earlier in the evening, Western and Arab foreign ministers agreed on a compromise draft resolution calling for an immediate Gaza ceasefire .
4 days of intensive bargaining
The agreement was announced after four days of intensive bargaining involving British Foreign Secretary David Miliband, US Secretary of State Condoleezza Rice, French Foreign Minister Bernard Kouchner and several Arab foreign ministers as well as Arab League chief Amr Mussa.

Miliband, in agreement with his US and French counterparts, early Thursday presented a new draft resolution to the Arab delegation which had earlier produced its own revised draft demanding an immediate and permanent ceasefire in Gaza.

Arab ministers were under public pressure to secure an immediate end to Israel's 13-day military operation in Gaza that has killed more than 760 Palestinians.

Arab and Western ministers held several frantic rounds of bargaining that apparently produced the compromise deal.

In a key concession to the Arabs, a text circulated by the British delegation earlier Thursday "calls for an immediate, durable and fully respected ceasefire" in Gaza and "for the immediate withdrawal of Israeli forces from Gaza."

An earlier version merely "stressed the need" for an immediate ceasefire.

The latest British draft available also "condemns all acts of hostilities and terror directed against civilians" and for "the lifting of the Israeli blockade" of Gaza.

Reuters and AP contributed to the story