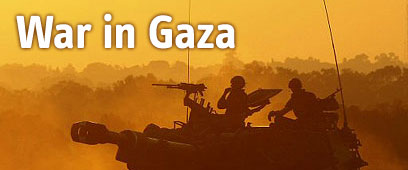 Damage caused by rocket (archives)
Photo: Dudu Azoulay
Man lightly injured by mortar in south
Hamas responds to UN Security Council Resolution calling for ceasefire by firing rocket, mortar shell barrages at Beersheba, Ashdod, Ashkelon, other southern communities. At least 30 rockets land in Israel since morning hours; one man hurt, several residents suffer shock
The rocket fire directed at Israel resumed Friday morning, on the 14th day of the Israel Defense Forces' Operation Cast Lead and several hours after the United Nations Security Council called for an immediate ceasefire in Gaza.
Rockets and mortar shells were fired at Ashdod, Ashkelon, Beersheba and the Sha'ar Hanegev and Eshkol regional council. One man was lightly injured in Eshkol and several buildings were damaged.
At least 30 rockets have been fired since the morning hours. A rocket landed in an open area in Ashdod in the afternoon hours. Shortly afterwards, Palestinians reported that two people were killed in an air strike in the northern Strip.
Anothe rocket landed in an open area in Ashdod at 12 pm. Several residents suffered shock.
Three rockets hit the Sha'ar Hanegev Regional Council at 11:30 am. One of the earlier barrages, at around 9:45 am, saw three rockets lands in the Beersheba area.
At around 9 am, rockets landed south of Ashkelon and in an open area in the Sha'ar Hanegev Regional Council.
An air raid siren sounded in the cities of Ashkelon and Ashdod at around 8 am. At least one rocket hit an open area near Ashdod.
Another rocket landed in an open field in the Eshkol Regional Council, damaging a number of buildings. There were no injuries.
An hour earlier, four rockets fired from the Gaza Strip at Beersheba landed in open areas in the southern city. There were no reports of injuries or damage.
Rocket landing site in Eshkol (Photo: Ze'ev Trachtman)
Early Friday, a false alarm was sounded in some of Beersheba's neighborhoods as a result of a malfunction in the siren system.
Avital, a city resident and a mother of four, told Ynet, "We don't sleep at night, and mostly worry about the kids. We shop and go straight home and close ourselves here, because of the situation.
"We try to act according to the Home Front Command instructions, and only hope the IDF won't halt its operation."
Vivian Mazus, who lives near a place where a rocket landed several days ago, spoke about her fears in the past few weeks.
"The siren is enough to stress me out. We have no secured room, so this morning I ran into the stairwell when I heard the siren, which woke me up. I forgot to put on my shoes, to I ran out in the cold."
A siren test scheduled to be held in Beersheba at 2 pm Friday was cancelled. A municipality official said the malfunction in the siren system in some of the city's neighborhoods was being checked by the Home Front Command.
According to figures presented Thursday evening by the Shin Bet security service, more than 450 rockets have been fired at Israel since the start of the military operation in Gaza. Cities like Ashdod, Gdera and Beersheba found themselves under fire, joining Sderot, Ashkelon and other southern communities.
The blows suffered by the rocket's manufacturing and storage alignments, including the damage caused to the launching pads and launching cells, were heavy but have yet to destroy the entire alignment.
Shmulik Hadad contributed to this report