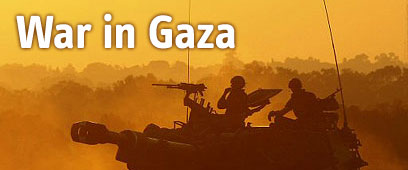 Mashaal: IDF has lost
Photo: Reuters
Hamas' Politburo Chief, Khaled Mashaal, slammed the door on all Gaza ceasefire proposals Saturday, saying his organization would treat any international peacekeeping force in Gaza as an occupying entity.

IDF's Side of the Story

Is Hamas falling apart? Senior IDF officer says roughly 300 Hamas men killed since army launched ground incursion, whole Hamas battalions wiped out in dozens of clashes with troops over weekend; terror group also hit by wave of desertions, official says

Speaking after Hamas representatives met with international officials in Cairo to discuss ceasefire proposals, Mashaal added that Hamas would not accept the inspection of the numerous smuggling tunnels in Gaza by international observers.

"The objective of the war in Gaza is to subdue the Palestinian people and to dictate its political concessions," Mashaal said.

"The resistance organizations are still at full strength – they took a beating during the first two days, but have since taken the initiative," he said, adding that Palestinians had fired rockets at an IDF base Saturday evening. The IDF declined comment.

Mashaal also said the Israeli offensive was weakening. "The objective of the war was to obliterate the resistance and stop the rockets, in order to lay the groundwork for new political projects aiming to bring the Palestinian issue to an end," he said. "The enemy has failed – it has not achieved its goals."

The Hamas leader added: "The enemy is hiding its true losses. For this reason it is preventing journalists and reporters from entering the Strip. I am saying with all modesty and certainty that the enemy has failed miserably."

Hamas has reported a number of victories for Hamas members over the past few days, including the wounding and killing of IDF soldiers. Most of the reports, however, were false.

Mashaal said the only thing Israel had succeeded in doing was creating a "holocaust" for the Palestinian people.

"I turn to the Zionists and say – what have you achieved with this war for which you have given all of your support to your leadership? What have you achieved other than civilian deaths and a holocaust ahead of the next election in Israel?" he asked.

"You complain about the Holocaust against you but today you are creating a holocaust worthy of a museum. You won't finish with the resistance; you are just making it stronger and accelerating the end to the existence of your entity."