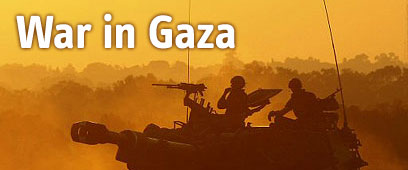 Bombing Gaza
Photo: Reuters

Previous assassination attempt
Photo: Reuters
As Operation Cast Lead entered its 16th day, the Israel Air Force on Saturday night attacked the home of Ahmad Jabari, the commander of Hamas' military wing.

It is unclear whether there was anyone in the building, which is located in the northern Gaza Strip neighborhood of Sajaiyeh. According to estimates, Jabari was not in the house, as he is managing the fighting against the Israel Defense Forces from a hiding place.

Pushing Forward

PM, senior ministers determined to continue with ground offensive despite international efforts to promote ceasefire. Military sources say IDF seeks to step up pressure on Hamas, send more units into Gaza

In any event, the attack was a clear signal by the Israel to the man referred to as "Hamas' chief of staff" and the most senior person responsible for the organization's ground defense layout against the IDF. The IDF attempted to assassinate Jabari once before, in 2004, but he survived.

Defense establishment officials have said in recent days that although information has been received on the hiding places of the Hamas leaders, the IDF refrained from attacking them, often for moral considerations, as they were deliberately hiding in populated areas, using civilians as a human shield.

Sources in the Strip reported that at least two Palestinians were killed and many were injured Sunday morning in an IDF shelling at the city of Huzaa, east of Khan Younis. According to reports, several houses caught fire.
Mosque used as arms' storehouse bombed
The IAF also attacked overnight a mosque in the town of Rafah in the southern Strip, used as a Hamas training camp, a meeting place and a weapons cache. The IDF reported that the mosque contained machine-guns and antiaircraft missiles.
This was not the first mosque to be attacked since the start of the Gaza operation, as the army claims Hamas has turned the holy sites into terror centers assuming the IDF would refrain from striking them.
In additional strikes Saturday night the Air Force attacked a Hamas police station, 10 weapon storehouses, some of them in organization members' homes, nine tunnels on the Philadelphi Route, 10 terrorist cells in different areas in the Gaza Strip, and several rocket launching pads.
Exchanges of fire between IDF forces and Hamas gunmen continued on the ground, although in a relatively limited manner. There were no injuries among the soldiers.
The army is now waiting for orders from the political echelon on whether to continue the ground offensive. Ynet reported Saturday night that senior IDF officers believe the operation must be expanded in order to deepen the achievements and the damage caused to Hamas and refrain from missing an opportunity in the long run.
Ali Waked contributed to this report