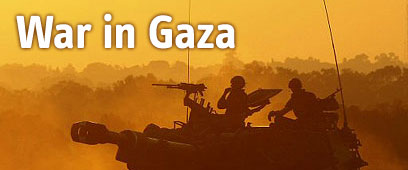 PM. Determined to continue
Photo: AP

IDF chief in Gaza. Accumulative effect on Hamas
Photo: IDF Spokesperson's Unit
The IDF must extend its operation inside the Gaza Strip in order to meet the objectives set for the ground offensive by the political echelon, senior IDF officials said on Saturday.
Ceasefire
War and Peace Index shows Jewish public supports Gaza operation, objects to ending it if kidnapped soldier is not released as part of agreement, even if rocket fire stops. Arab public conveys opposite views
Following a security discussion held Saturday night Defense Minister Ehud Barak ordered the military to broaden its activity in the Strip. The reserve units that were called up last week have completed their training and are currently awaiting orders in their bases.
"Hamas suffered a substantial blow, has lost many men and its infrastructure sustained grave damages – and the IDF should carry on doing so," a high-ranking officer told Ynet. If the military campaign is halted at this point, he added, this could prove to be a mistake in the long run.
Prime Minister Ehud Olmert, Defense Minister Barak and Foreign Minister Tzipi Livni are determined to see the fighting continue until the army obtains the operation's goals and until a diplomatic agreement is reached. Such a settlement must fulfill the Israeli demands – a stop to Hamas' rocket fire and to the smuggling of weapons from Egypt.
As of Sunday Israel is set to face a blitz of international diplomatic visits aimed at pressuring the country into agreeing to a ceasefire in Gaza. Israeli leaders will meet next week with German Foreign Minister Frank-Walter Steinmeier, NATO Secretary-General Jaap de Hoop Scheffer and the Quartet's Mideast Envoy Tony Blair.
IDF: Hamas weakening
Meanwhile the Defense Ministry's representative Amos Gilad is scheduled to return to Cairo this week for another round of talks on the truce proposal presented by President Hosni Mubarak.
Defense sources explained Saturday that the IDF's ground offensive in Gaza was having an accumulative effect on Hamas, which has already started to exhibit signs of internal weakness.
Earlier Saturday, the IDF killed Hamas' rocket chief in the Gaza City area, Amir Mansi, who was forced to fire mortar shells on a Golani force after his subordinates refused to do so themselves.
In order to deepen this effect, a senior officer stressed, the army would have to send more units in and reach areas it has not operated in so far.
Hanan Greenberg contributed to the report