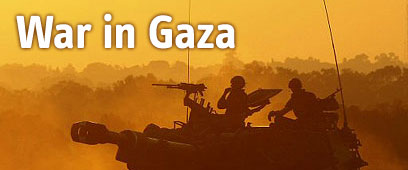 Diskin: Fewer rockets than expected
Photo: Gil Yohanan

Yadlin: Gaza leadership paralyzed
Photo: Haim Zach
Hamas is damaged, but reluctant to concede to a ceasefire, intelligence leaders reported Sunday. The IDF's head of intelligence and Shin Bet chief said the terror organization's capabilities have been significantly reduced, but the organization may still launch a harsh response.

"Hamas is crying stop. Hamas wants nothing more than to retaliate to the blow dealt to it and make up for the lack of operational achievements in the field. On the other hand, they don't want to wave the white flag," Major-General Amos Yadlin said in a press conference.

"The Hamas leadership in Damascus is isolated. Their leadership in Gaza is paralyzed. Their military wing is evasive," Yadlin said, explaining that organization leaders in Syria were calling for continued fighting while local Hamas leadership wanted a compromise.

Capabilities in Gaza

Chief intelligence officer displays color-coded map of al-Atatra neighborhood used by terrorists to record locations of explosive devices, sharpshooters

"They didn't expect our response (to rocket fire) or a ground invasion. The reduction in rocket fire derives from a reduction in ammunition. The ground offensive decreased Hamas capabilities. Their operatives evade friction with our forces and prefer remote controlled operations from a distance," he explained.

"The damage to the Philadelphi Route was a blow to Hamas' lifeline. Hamas is moving towards a ceasefire," Yadlin added. Despite this situation, "Hamas still has the capabilities to cause damages – both in their war on the Israeli homefront and in fighting in Gaza," he conceded.
Hamas using civilian infrastructure
Yadlin also demonstrated, using a number of intelligence videos, that Hamas continued to use civilians and civilian infrastructure as a shield. For example, intelligence photographs showed a booby-trapped school, with explosives in every classroom.

In a similar indictment of Hamas' egregious treatment of Gaza civilians, Cabinet Secretary Oved Yehezkel made mention of Hamas' looting of humanitarian trucks, saying that the aid was being stored in Hamas warehouses and distributed selectively only to Hamas members.

Shin Bet Chief Yuval Diskin noted both of these phenomena. But, he said, Gaza citizens may have begun to protest. "There is clear evidence of Gaza residents refusing to have rocket launchers placed next to their homes.

This, as well as the deliberate execution of Fatah operatives under the cover of fire, suggests that Gaza residents are beginning to rethink their leadership. "Hamas is the target of criticism that they caused a tragedy in Gaza," he said.

Part of the reason for looting and civilian distress, Diskin said, was the result of Hamas' difficulty in getting aid from its usual allies. While, "there are efforts by Iran, Syria, and Hizbullah to create a chokehold on Israel, Hamas is trying to get aid from these entities, but isn't receiving it."
'Fewer rockets than expected'
This lack of aid is also manifested in fewer military supplies. The Shin Bet chief noted at the press conference that Hamas was lobbing fewer rockets than expected, despite having launched 500 rockets and 200 mortars since the beginning of Operation Cast Lead.

The Shin Bet was expected between 100 to 200 rockets to be launched per day, "but on the heaviest day of rocket fire, only 70 rockets were fired. In recent days, some 20 rockets and five mortars were fired," Diskin said.

"Hamas is suffering from heavy casualties, damage to warehouses, and damage to transportation capabilities, both of goods and operatives," he said. "Hamas' smuggling capabilities across Philadelphi were damaged. Many of the operators of the smuggling tunnels were hurt or fled their homes."

"Hamas is experiencing an existential threat," Diskin said. "However, we're not deluding ourselves about Hamas' abilities to renew their former behavior," he admitted, noting that "it's possible that they're saving up some of their capabilities for the end of the operation."

Regarding a ceasefire, Diskin said that "Hamas tried to tempt Israel using a de facto ceasfire, but this is not good enough for Israel. Recent weeks have shown a clear reduction in rocket fire, which is bearing fruit. But Hamas must understand that Israel will not accept a cancerous outgrowth in its backyard," he said.