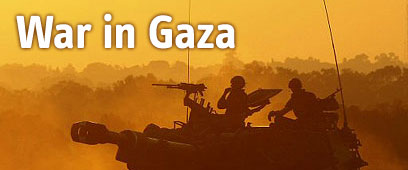 Oryan. Danes involved in Middle East
Photo: Yasper Rauf

Mazel. Scandinavians prefer Palestinians
Some 29% of Danish citizens sympathize with Israel and its current Gaza offensive, Operation Cast Lead, versus only 22% who side with the Palestinians, according to a survey published by Danish television station TV2 Tuesday.

Another 38% of the survey respondents said they believe Israel and the Palestinians are equally responsible for the situation.

In Norway

Thirty-one people arrested as some 1,000 pro-Palestinian protesters attack pro-Israeli demonstration in Norwegian capital; clashes said to be worst in Oslo since 1980s

"There is great exposure for what going on in Israel and there is not one self-respecting newspaper which didn't send a reporter to the region," Israel's Deputy Ambassador to Denmark Dan Oryan told Ynet. "The interviewers approach is very professional and provides a good opportunity for Israel to present its stance.

"This morning, the Danish prime minister made a statement about the Gaza offensive for the first time, saying that Israel has a right to defend itself. However, there a very strong emphasis is placed here on human rights and honoring agreements,"

"The world's basic perception of the Danes is one of involvement: they have forces in Iraq, Afghanistan, and even in Somalia. They very much want to help the international community. They also see themselves as an important player in the Middle East, in designing the Road Map, in providing humanitarian aid to the Palestinians, and in cooperating with Israel.

"When I was interviewed about the fighting, I made every effort to express sorrow for any damage to Palestinian property and to bring the issue to the main point – why we are doing what we are doing," added Oryan.

"One of the typical questions is 'what happens next?' They are concerned; they support Israel and are also against Israel. They are also concerned about the problematic message the Palestinians are receiving and about the next generation of suicide bombers."

The statistics from the Danish poll are surprising in light of the fact that Denmark is part of Scandinavia, where public opinion almost automatically tends to sympathize with the Palestinians.
'PR should start in Israel'
"Traditionally, Scandinavian media will always show more support for the underdog. That's how it was with the Apartheid government in South Africa and also with the Palestinians," said Vidar Norberg, a journalist for Norwegian newspaper Karmel.

"There is something in Scandinavian culture that tends toward that. In Norway, the media clearly has a pro-Palestinians slant. The deaths in Gaza and the Israeli shelling concern the media more than what is going on in Sderot.

"Norway is not an anti-Semitic country. Most Norwegians do not care about what happens in Israel. They care about their pay check and about their yearly vacation, but the media presents a different line, the line of the elite who take more interest in human rights. Despite this, one can't ignore the fact that the country's original mandate from 1814 ruled that Jews are not to be allowed into the country," Norberg added.

According to Israel's former Ambassador to Sweden Zvi Mazel, the situation in Sweden is similar.

"In all things related to Israel, the Swedish media clearly prefers the Palestinian version. When they would invite me for to say something on TV, they would blur my statements.

"Since the current prime minister took power, the media's policy has become slightly more pro-Israel, but the base is still anti-Israel, and the media follows suit," said Mazel.

"The impression received by the average reader is that Israel is a country with colonialist military power that occupied Gaza and embitters the lives of the Palestinians.

"The PR needs to start in Israel. We need to bring anti-Semitism experts to get to know the European extreme left. Public relations don't end with the fact that we are democratic country. We are in dire straits, and this needs to be addressed," added Mazel.

Daniel Edelson contributed to this report