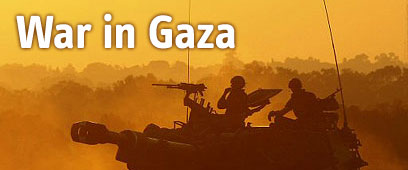 Barak in Ashdod
Photo: Ariel Harmoni, Defense Ministry
Defense Minister Ehud Barak continues to show signs of support for a ceasefire agreement in the Gaza Strip. Speaking at a meeting with troops at the Ashdod naval base on Thursday, Barak said, "The fighting continues so that we can achieve our goals.

War in South

Senior diplomatic official tells Ynet that if Egyptian truce proposal fails to meet Israeli objectives, other options remain open, hinting military op could expand. Decision of whether to accept ceasefire plan or deepen offensive to be made by Friday, he adds

"But we are keeping our eyes open for the possibility of ending this offensive, and completing the IDF's exemplary results and achievements, through the diplomatic process."

Barak was briefed on the navy's activity during Operation Cast Lead, and spoke with troops.

The defense minister was accompanied by Navy Commander Brigadier General Eli Marom, Ashdod base Commander Colonel Yaron Levi, and other commanders.

Barak opened his speech by thanking the soldiers, "First of all, I would like to thank you all for what you are doing in Operation Cast Lead. Troops from all sections of the navy are participating in this operation, and I would like to thank you for what you are doing on land and at sea.



Barak with troops in Ashdod Thursday (Photo: Ariel Harmoni, Defense Ministry)

"This is very important. We launched this operation in order to restore quiet to the south and effectively prevent smuggling from the border, and we are continuing to do these two things."

According to Barak, "There is extraordinary cooperation between the ground forces and the forces that assist them from the sea, and marines' ground activity. For all of these things I would like to thank you. Thank you very much."

In recent days the defense minister has expressed his position that the Gaza operation should come to an end, and was met with much criticism from high ranking officials in Jerusalem.

One source was quoted as saying in response, "Hamas operatives see these sights and hear these statements and are encouraged by them and claim that Israel is seeking a way out. Leaking details of ministers' private initiatives is irresponsible and regrettable."