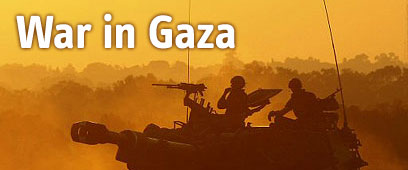 Leaders to decide Friday
Photo: AP

Strike in Rafah
Photo: AFP

Gilad. Leaving for Cairo
Photo: AP
Israeli official: Keeping all options open
Senior diplomatic official tells Ynet that if Egyptian truce proposal fails to meet Israeli objectives, other options remain open, hinting military op could expand. Decision of whether to accept ceasefire plan or deepen offensive to be made by Friday, he adds
Israel will give the Egyptian-brokered negotiations on a Gaza ceasefire a chance, but is keeping other options open as well, a senior Jerusalem official told Ynet Wednesday night, hinting that the military operation in the Strip could still expand further.
Truce Talks
Following reports group accepted Egypt's ceasefire proposal, Hamas representative says in Cairo press conference that Israel must lift siege on Gaza, end aggression, pull out of Strip and open border crossings for truce to materialize
"The military move in Gaza continues in full strength with strikes from the air, sea and ground, in a bid to further wear out Hamas," he explained. "The decision on whether to declare a truce or expand the operation in Gaza will likely be made by Friday," he added.
Defense Ministry representative Amos Gilad will depart for Cairo Thursday o discuss the Egyptian ceasefire proposal and Hamas' stance as it was conveyed to the Egyptians.
Gilad will seek to establish whether the initiative meets Israel's demands, namely a halt to the rocket fire and terror emanating from Gaza and a stop to Hamas' military buildup. Gilad will also try to find out whether Egypt is willing to incorporate technologies that will be provided by the US and Germany to curb the smuggling of weapons into Gaza.
Shalit's release a possible bonus
Meanwhile, Israel is also operating in another channel and has sent Foreign Ministry Director-general Aharon Abramovitch to Washington to determine what guarantees can be provided by the US, NATO, Germany, the Netherlands, Turkey and other elements against the transfer of arms from Iran and Hizbullah to Hamas.
The issue of Gilad Shalit's release has not been defined by the cabinet as one of the objectives of the Gaza operation, and is considered a possible "bonus" in any truce agreement.
Following Gilad and Abramovitch's return, Prime Minister Ehud Olmert, Foreign Minister Tzipi Livni and Defense Minister Ehud Barak will meet with the heads of the defense establishment to decide on whether to advance towards a ceasefire or carry on with the offensive.
A senior diplomatic official stressed Wednesday that the government would continue to operate on both the diplomatic and military channels, until either one can realize the goals of the operation.