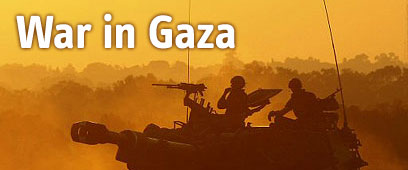 El-Sana: Israeli leaders war criminals
Photo: Gil Yohanan
Thousands of people staged a protest against the IDF operation in Gaza in the Negev town of Arara on Friday. MK Talab El-Sana (United Arab List-Ta'al) said during the protests that "the slaughter in Gaza is

Grieving

Association for Civil Rights takes out full-page, obituary-style ad in weekend newspaper 'grieving' Palestinian children killed in Gaza offensive. Ad meant to 'convey basic message of operation's impact on civilians,' says group's spokeswoman

worse than the massacre in Sabra and Shatila, and a committee must be established to investigate the war crimes."

He added, "This war is a stop on the Palestinian people's way to independence, and a stop on the way of Israel's leaders to the defendant's seat in the Hague as war criminals."

Secretary-general of the Arab Higher Monitoring Committee, Abed Anabtawi, said that "the Palestinian people will continue to resist the occupation. They can rely only on themselves to achieve their freedom and historical rights. I call for Palestinian unity in light of the offensive."

But Anabtawi also explained that his committee "is not Hamas or Fatah," and was not "protecting them". He said as long as the "terrorist" attack continued with the support of the US and some Arab countries, the committee would continue to protest "with demonstrations as well as appeals to the international community, to present the Israeli government's image to the world and to call for international trials."

The protest was part of some 130 demonstrations organized by the Arab High Monitoring Committee since the fighting began. Two such events were relatively large, with thousands showing up in Sakhnin and Baqa al-Gharbiya.