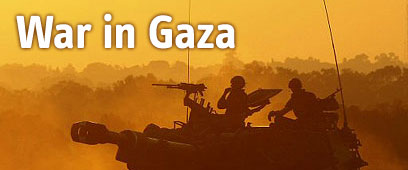 Headed for ceasefire in Gaza?
Photo: AFP

Livni: New offensive can be launched
Photo: Reuters
Israel announced Friday that "significant progress" had been achieved in talks in Cairo on a materializing ceasefire in Gaza.

Hamas Refuses Truce

Hamas politburo chief speaks before Arab leaders in Qatar, says organization will continue resistance until Israel withdraws troops, opens crossings, and 'stops its aggression'; Assad calls Arab peace initiative with Israel 'dead'

The cabinet is set to convene Saturday evening to discuss the Egyptian initiative, by which Israel will announce a unilateral ceasefire while forces remain inside the Gaza Strip.

Defense officials said they expect Hamas will also cease its fire under these circumstances. During a briefing of the limited cabinet, the officials said that if the organization continued its fire, Israel would retaliate and the fighting would continue.

Foreign Minister Tzipi Livni told Ynet Friday evening that another military campaign would be launched in Gaza if Hamas did not cease its fire. "This battle is not a singular occurrence," she said.

Livni stressed that despite an agreement signed with the US in an attempt to prevent Hamas from smuggling arms into Gaza, "We will not abandon our fate in the hands of foreigners."

She added that even if the unilateral ceasefire were approved, Israel would continue to keep a watchful eye on Gaza. "We will keep our finger on the pulse and Hamas knows this. Israeli citizens should know that this is my obligation. If they raise their heads we act, with strength," the foreign minister said.

"Hamas must stand the test of deterrence", which would include a halt in all smuggling activity as well as the return of kidnapped soldier Gilad Shalit, she said. "We are putting this issue on the table."

Regarding Shalit Livni added, "(Hamas) needs to know that this is part of our responsibility and we are not going to let this issue go."
'Significant progress in Egypt'
Amos Gilad, the head of the Defense Ministry's Diplomatic-Security Bureau, and Shalom Turgeman, the prime minister's diplomatic advisor, returned from a Cairo meeting with Omar Suleiman, Egypt's chief of intelligence, in which they discussed the subject of arms smuggling into Gaza from Egypt.
Israel had not been satisfied with Egypt's general proposals, stated to Amos Gilad on Thursday. Turgeman and Gilad returned to Cairo on Friday in order to receive details on how Egypt planned to stop arms smuggling along the Philadelphi route.
Upon returning, the two briefed Prime Minister Ehud Olmert and Defense Minister Ehud Barak. Following the briefing a statement was released saying that "during talks with Egypt's chief of intelligence, there was significant progress."
The statement hints at Israel's acceptance of the Egyptian ceasefire plan in Gaza, which calls for a short-term ceasefire, after which Israel may withdraw its forces from the Strip. Later stages of the proposal call for hearings on details such as the opening of the crossings between Israel and Gaza.
During a five-hour debate held by the limited cabinet Thursday, the prime minister said, "We are continuing to inquire on the details of a diplomatic arrangement with the Egyptians, and by no means with Hamas."
He added, "We will stop terror and stop Hamas from rearming, without any compromises. I don't want any time pressures or international pressure to dictate failing to meet these goals. I'm not stressed out, and the fighting in Gaza continues."
Reuters contributed to this report