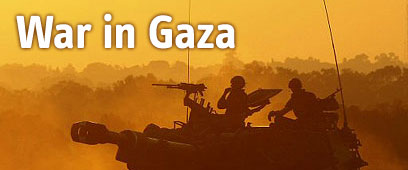 One of daughters arrives at hospital
Photo: Tsafrir Abayov
Another tragedy in Gaza: Dr. Ezzeldeen Abu al-Aish, a gynecologist from Gaza who works in Israel, lost three of his eight children in an Israel Defense Forces shelling, Channel 10 reported Friday.

Two of Abu al-Aish's daughter are hospitalized at the Barzilai Medical Center in Ashkelon and the Sheba Medical Center at Tel Hashomer in serious condition.

Dr. Abu al-Aish is a fertility expert who has been working at the Sheba Medical Center for the past few years and researching the treatment of Palestinian and Israeli children at the Gertner Institute. He also worked at the Soroka Medical Center for many years.

His wife died of leukemia several months ago.

An initial IDF inquiry revealed that a tank fired back at the Jabalya refugee camp after being fire on by gunmen. After learning that Abu Al-Aish's family members had been hurt, the Coordination and Liaison Authority at the Erez crossing decided to evacuate the injured to Israeli hospitals.

A Palestinian ambulance led the wounded to the Erez crossing, where they were transferred to an Israeli ambulance. The investigation into the incident continues.

Prof. Ze'ev Rothstein, director-general of the Sheba Medical Center, told Ynet, "Since the operation began, Dr. Abu al-Aish returned to Gaza to be with his daughters. There are not enough words to describe the tragedy which has hit this man of all people, who does everything for the treatment of children and studied the health of children in Gaza and Israel.

"From what I understand, his daughters were killed by an Israeli tank shell. I wish I could wake up and realize this is a bad dream. Hamas may have taken advantage of his home. This is one of the worst tragedies of this war, which illustrates the absurd in the use made of the population exposed to the fire. All of Sheba's staff bow their head in the face of this loss."



Ruins after Gaza strikes (Photo: AFP)
'My children should be the last to die'
Dr. Abu al-Aish arrived at the Sheba Medical Center where he works as a gynecologist on Friday night. "I had three beautiful daughters who loved to help people. They were soldiers of peace," he said.

"I hope this is the end. If this death satisfies the leadership, my children should be the last to die," he told his colleagues at the hospital.

Abu al-Aish was not at home when the tank hit the building, and learned of his daughters' death when he got there.

"I wanted to devote my life to the girls. I only lost my wife several months ago," he told the many friends who arrived at the hospital.

Many of the doctor's acquaintances – including reporters, human rights activists and physicians who have worked with him – arrived at the hospital immediately after the incidents.

Radio host Gabi Gazit, who had spoken to him many times since the start of Operation Cast Lead, said, "It's this ugly war. A doctor is sitting here, I would almost call him a Zionist Palestinian, and grieving the loss of his three daughters, wanting to know what this happened."
'He believes in coexistence'
Dr. Liat Lerner-Geva, Director of the Women and Children's Health Research Unit at the Gertner Institute, who has worked with Dr. Abu al-Aish on his research, told Ynet, "I don't know how this man will get back on his feet after this tragedy."
She said that she had tried to contact the doctor immediately after watching the report on television.
"He returned to Gaza on Thursday before the operation began. He went to see the children and was supposed to return to Israel on Monday, but on Monday he could no longer return.
"He would arrive in Israel and stay with friends three nights a week. Although he had permits, they would always give him trouble at the crossings. He believed in coexistence and practiced it in his work," she said.
Dr. Abu al-Aish's study examined the treatment of Palestinian children at Israeli hospitals. As opposed to Israeli children who are released after a short while, the Palestinians children usually remain hospitalized in Israel for a long time because the treatment and follow-up cannot be continued in the Strip.
Hanan Greenberg and Ali Waked contributed to this report