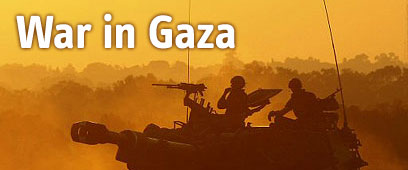 Gaza doctor
Photo: Roi Gazit
The Sheba medical center was the site of a confrontation Saturday, as Israeli visitors to the hospital slammed the "propaganda" of a Gaza doctor who lost three of his daughters after an IDF shell hit his home in the Strip.

The doctor, who works at Sheba, convened a press conference at the medical center where he spoke about his daughters. At one point, he was interrupted by a mother of three soldiers who said: "Why is he engaging in propaganda? He's talking against Israel at the Sheba hospital. You should all be ashamed. All my children are serving in Gaza. Who knows what he had at his home?"

During his press conference, Dr. Ezzeldeen Abu al-Aish, said that his children were involved in peace missions.



Doctor's wounded daughter (Tsafrir Abayov)

"They participated in peace camps everywhere. Were they armed when they were killed? They were not armed with weapons, but rather, with love; love for others. They planned to travel to Canada; I got a job in Canada and they wanted to come with me. Why did they ruin my hopes? My children."

"Why they did kill them? Give me a reason," the doctor added. "That's what I awnt. I want the reason. These Israeli soldiers, the IDF, they know my house. Only a few days ago a tank was deployed across my home. I immediately called the journalists. Israeli officials did everything and moved the tank. They moved and I gave them the description of my house, a five-story house on Salah al- Din Street."

Dr. al-Aish also noted that in the past he was photographed with Defense Minister Ehud Barak.

"I was the only Palestinian in Soroka Hospital who went to wish him well on the occasion of the Sukkoth holiday, and he was surprised that a Palestinian from Jabaliya works in Soroka. He came and sat next to me, and asked me how I managed to become a doctor."

At that point in the press conference, the doctor's words were disrupted by Levana Stern, a mother of three soldiers.

"What's wrong with you, have you all gone crazy?" she said. "My son is in the paratroopers, who knows what you had inside your home, nobody is talking about that. Nobody is talking. Who knows what kind of weapons were in your house; so what if he's a doctor? The soldiers knew exactly. They had weapons inside the home, you should be ashamed. I have three soldiers, why are they firing at them? All of you should be ashamed."
'They don't want to see other side'
After Stern and other visitors at the hospital demanded that the press conference be terminated, the Palestinian doctor said: "I turn to all of you, to the entire world, so you know that my children were the ultimate price, and I don't want anyone to taste what I suffered. I want them to be the ultimate price for a ceasefire, that's what I want. The Israeli government should tell the truth. I want my children to be the victims of peace…I am armed with love and peace; this is what I'm armed with. My children were armed with love and peace."

Referring to those who interrupted his words, the doctor said: "They don't want to see the other side; they only want to see one side. They don't want to see the others."

Stern spoke with journalists after the doctor left the site and said: "I pity him. I'm completely feel for him. My heart aches over what happened to his children and I know what it's like when children die and a family is ruined. Yet I don't understand why the people of Israel give him a platform at the hospital while our soldiers are lying here wounded. He needs to tell the story, but tell it once, and that's it."

Meital Yasur Beit-Or contributed to the story