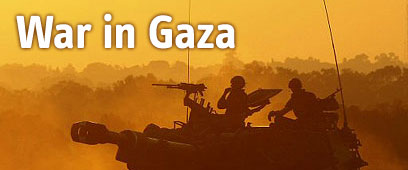 Cabinet to make truce decision
Photo: Avi Ohayon, GPO
After 21 days, Israel declares end to fighting: The National Security Cabinet voted Saturday evening to end the military operation in the Gaza Strip. Seven ministers supported the decision, two others objected, and one abstained.
In a statement following the vote, Prime Minister Ehud Olmert said Israel fully achieved the operation's objectives, adding that the IDF will end its military operations at 2 am Sunday.
The prime minister noted that Hamas sustained hard blows during the operation, adding that the group is an offshoot of Iran.
Gaza Op
Heads of France, Germany, Italy and UK send letter to Olmert, expressing willingness to offer naval resources to help stop arms trafficking into Gaza. Also say will provide aid to Gaza, willing to monitor crossings
"Iran, with its weapons smuggling, attempted to do with Hamas what it did with Hizbullah in Lebanon," he said. "This is not a ceasefire with Hamas. These are understanding with elements in the international community which Hamas, as an illegitimate entity, has no place to be involved in."
However, a Hamas representative said the group will continue to fight as long as Israeli soldiers remain in the Strip.
"If the Israeli military continues its existence in the Gaza Strip, that is a wide door for the resistance against the occupation forces," Hamas representative in Lebanon Osama Hamada told al-Jazeera television.
In his statement, PM Olmert said that for the time being the IDF would not be withdrawing from Gaza.
"These understandings do not guarantee a cessation of Hamas' rocket attacks on Israeli civilians. If they stop, we too shall stop. If not, IDF soldiers will hit back," he said.
Turning his attention to IDF captive Gilad Shalit, Olmert said: "The Israeli government is working in many ways to bring Gilad Shalit home and, during the days of the operation, we did many things that brought us closer to this goal, upon which I will not elaborate."
"Gilad is at the top of our list of priorities," the PM said.
Bar-On, Yishai object
Despite the decision, some ministers – and particularly Finance Minister Ronnie Bar-On, who clashed with Olmert – presented their reservations over the ongoing rocket fire and Gilad Shalit's release. Both Bar-On and Shas leader Eli Yishai voted against the decision, while Rafi Eitan of the Pensioners' Party abstained.

Cabinet members arrived at the Prime Minister's Office in Tel Aviv Saturday evening where they met with top security officials, including Army Chief Gabi Ashkenazi, IDF Intelligence Chief Amos Yadlin, Shin Bet Director Yuval Diskin, and Mossad Chief Meir Dagan.

PM Olmert led the call to examine a unilateral ceasefire. He was supported by Foreign Minister Tzipi Livni and Defense Minister Ehud Barak. Livni believes that there is no reason not to end the fighting, as the current operation is merely one round in the conflict and more rounds are expected vis-à-vis radical Islamic terrorists.

The foreign minister, who has led international agreements with the US and European countries aimed at ending Hamas arms smuggling, believes a truce would be good to Israel. On Friday, Livni told Ynet that should the fire be renewed, Israel will respond harshly.

Before Saturday's cabinet session, most Labor and Kadima cabinet ministers said they would endorse a truce and believe that international pressure and fears of a Gaza entanglement should prompt a unilateral ceasefire declaration.

During the cabinet meeting, hundreds of protesters outside the PM's Office in Tel Aviv are urging the government to secure Gilad Shalit's release before the Gaza operation ends.

Reuters contributed to the story