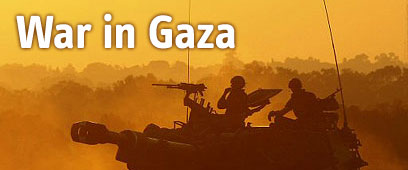 Gilad Shalit. Death sentence?
Photo: Noam Rotem

Rally outside Kirya base in Tel Aviv
Photo: Yaron Brener
The Israeli government declared a unilateral ceasefire in Gaza without making significant progress in the efforts to release Gilad Shalit. The campaign representing the kidnapped soldier's family said Saturday night that "there is a lot of concern in light of the prime minister's statement that he is still committed to do everything to bring Gilad back home."

Parents' Plea

Family of kidnapped soldier appeals with government to include his release in any agreement to end Gaza operation

The campaign said in a statement that 'it's not enough saying that the government should not be urged because Gilad is at the top of its priorities. The remarks made do not answer the expectations of those close to the family and of parents and soldiers, who expected a clear statement, which links the war's outcomes with our commitment to Gilad."

The members of the "Gilad's Friends" campaign were even more blatant, claiming that a unilateral ceasefire was "a death sentence to Gilad". They said they would continue to remind the prime minister that "there is an Israeli soldier who has been abandoned in Gaza".

Shalit's friends aren't resting. On Saturday evening they organized a demonstration outside the Kirya base in Tel Aviv during the cabinet meeting on a unilateral ceasefire in Gaza, attempting to hit the iron while it's hot.

"I came here to protest with my small voice," said composer and singer Yoni Rechter, one of the hundreds of demonstrators.

Signs carried by the protestors read, "Tzipi Livni – would you abandon your son too?", "No agreement without Gilad" and "I'm a reserve soldier, don't sell us to Hamas".

Earlier Saturday, the Shalit family called on the government for the first time since the war began no to forget their son.

Gilad's father, Noam Shalit, said that "we are facing a critical junction and a one-time window of opportunity to return Gilad, after more than two and a half years in Hamas captivity.

"We cannot imagine that the issue of freeing Gilad will not be included in any kind of deal secured vis-à-vis Hamas," he added at a press conference in Gilad's hometown of Mitzpe Hila, with Gilad's mother Aviva at his side.

Gilad Shalit was kidnapped into the Gaza Strip 938 days ago.