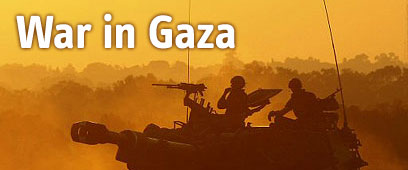 The defense establishment said Sunday night that it believed Hamas and the other armed groups in the Gaza Strip intend to uphold the ceasefire, prompting the IDF to allow for a short grace period – several hours – for the ceasefire orders to trickle down form Hamas' leadership to the organization's field operatives.

Once the grace period elapses, any rocket fire will meet a severe response, said a security source. Sunday morning's fire on the western Negev, added the source, was probably prompted by Hamas' leadership in Gaza as a show of force; but some was probably initiated by individual operatives seeking vengeance.

Planning Ahead

PM thanks visiting European leaders for 'working to ensure Israel's safety', says Israel to pull troops out of Strip once armistice is solid; expresses regret over civilian Palestinian casualties who 'became hostages of Hamas'

This assumption was the reason why the IDF's response to the fire was limited. The military's premise is that since Hamas infrastructure suffered a massive blow during the 22 days of Operation Cast Lead, the organization's brass is having trouble relaying orders to the field operatives.

Should the rocket fire persevere, the IDF will launch a broad response, one meant to target not only rocket launching pads, but various Hamas targets. The IDF is said to be set for two scenarios: One calling for massive shelling and the other calling for a renewal of the air and ground raids.
Ode to meticulous planning
Despite pulling some of the troops out of the Strip, the IDF will not be discharging the reserve forces drafted in favor of the Gaza offensive, at this time. The forces pulled out were redeployed to bases in the Strip's vicinity, while those still deployed in Gaza are said to man strategic points which will enable the IDF to mount an immediate response to any new development.

Defense establishment officials said that cooperation between IDF and the Shin Bet resulted in the forces mounting more than 100 real-time precision strikes – maneuvers which include receiving online information about pending terror activities, preparing a response and intercepting targets in a very short space of time.

This cooperation, said the sources, was the result of Operation Cast Lead's field commander, Southern Command Chief Major-General Yoav Galant's meticulous planning.

The IDF also noted the destruction of hundreds of Hamas leaders' homes as one of the keys to the offensive's success. The homes serve as weapons warehouses and headquarters, and shelling them has seriously hindered Hamas capabilities.