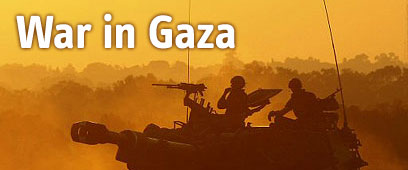 'No desire to stay in Gaza.' PM Olmert with Berlusconi
Photo: Avi Ohayon, GPO
Prime Minister Ehud Olmert said Sunday that "if the Gaza ceasefire proves stable, Israel will not remain in the Strip."
In a press conference held in the premier's Jerusalem residence, with several of the world's prominent leaders by his side, Olmert added that "we intend on leaving Gaza as soon as possible and once we make sure that Israel's south is safe. We did not set out to take Gaza, and we have no desire to stay in it."
Ceasfire
Infantrymen leaving Gaza pursuant to Saturday's cabinet decision think cessation of operation too hasty, say IDF could have and should have crushed Hamas will to shoot rockets at Israel
French President Nicolas Sarkozy, UK Prime Minister Gordon Brown, Spanish Premier Jose Luis Rodriguez Zapatero, German Chancellor Angela Merkel, Italian Prime Minister Silvio Berlusconi and Czech PM, Mirek Topolánek, all traveled to the Middle East over the weekend, to assist in the Gaza ceasefire efforts.
Olmert thanked his peers for their support of Israel, saying "the united front you have presented, which aimed at ensuring Israel's safety is heartwarming, especially at this sensitive time." He also thanked the US administration for the memorandum on the Gaza arms smuggling and mentioned Europe's pledge to assist on the matter.
"Now, we must work with Egypt and the US in order to translate this commitment into actions which will prevent Hamas from ever regaining its strength. This is the foremost interest of anyone fighting evil and anyone who truly wishes to advance the peace process between Israel and the Palestinians."
European leaders with Olmert on Sunday (Photo: Avi Ohayon, GPO)
He told the world leaders that "we want to work together with you to bring peace and tranquility to the residents of Gaza," and asked to express Israel's "pain over the Palestinian civilians who were not involved in terror but became victims and hostages of Hamas."
France's Sarkozy, who addressed the media after Olmert, said that Paris supported Israel's decision to hold its fire, and was willing to lend Egyptian President Hosni Mubarak the assistance he needed to keep up his end of the ceasefire, in the form of technology and deploying monitors.
Germany's Merkel, speaking third, added that the arms smugglings, by land and by sea, must stop and that Berlin will do what it can to assist in that.
UK's Brown added that the mission ahead was not only to maintain the ceasefire and stop the arms smuggling, but to "create real peace", and urged Israel to reopen the Gaza crossings.