Fayyad. Man with a vision
Photo: Reuters
Palestinian Prime Minister Salam Fayyad said Saturday that the Palestinian people will celebrate the Holy Fire vigil in Jerusalem next year.
Speaking at the end of Easter celebrations in Bethlehem, Fayyad said, "Next year, Inshallah (God willing), we shall celebrate in the Church of the Holy Sepulchre in east Jerusalem, the capital of the Palestinian state."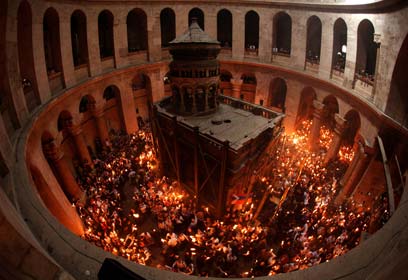 "Our people, joined by all humanity, will celebrate the creation of the Palestinian independent state on all 1967 borders, a state whose capital shall be Jerusalem," Fayyad added.

He continued, "We want this state to be based on the principles of humanity and justice represented in this holiday; our people strive to free themselves from the burden of occupation through popular resistance and setting positive facts on the ground."

Fayyad noted that the Palestinian people are taking constant steps to implement their goals by achieving freedom, independence and the right of return, "in order to live in dignity in a state and a homeland of their own."
Foundations of a state
Fayyad added that the Palestinians are also working on setting the foundations for an independent state. "The dawn of liberty shall sprout from all of the Old City's alleys in Nablus, in Hebron and in all of the communities and refugee camps in the West Bank and the (Gaza) Strip.

"We are determined to reach safe haven and freedom and are continuing to work on establishing state institutions and infrastructure. "

Fayyad further noted, "The Palestinian state is being built these days brick by brick, step by step and we continue to broaden services for our people to fortify its standing, especially in the areas which have been damaged by the fence and the settlements."

Earlier on Saturday thousands of Christian pilgrims gathered at the Church of the Holy Sepulchre for the Holy Fire ceremony.

According to Christian tradition, Jesus was crucified and buried at the site and the fire burns above his grave on the Saturday before Easter.