Ceremony in Old City
Photo: AFP
Tens of thousands of Christian pilgrims from Eastern churches converged on the Old City of Jerusalem on Saturday to take part in the Easter "Holy Fire" vigil.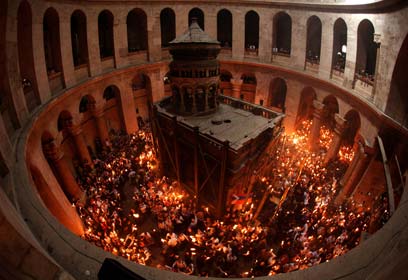 The faithful flocked around the Church of the Holy Sepulchre, built over the sites where Christians believe Christ was crucified and buried, in the narrow cobblestone alleys of annexed east Jerusalem's Old City.
Israeli border police and soldiers manned barriers to channel the crowd, which police spokesman Shmulik Ben Rubin estimated at tens of thousands strong.
The Greek Orthodox patriarch, Theophilos III, was to enter the Holy Sepulchre in the early afternoon, recite special prayers and wait in the darkened church at Jesus's tomb for the Holy Fire to light an oil lamp.
The "miracle" light is then shared by candles to the crowd, as church bells ring in the resurrection of Christ, before
and taken to Greece, Russia and other Orthodox countries.
This year's vigil took place after a few weeks of heightened tensions in east Jerusalem and amid fears of renewed violence.
Shmulik Grossman contributed to the report