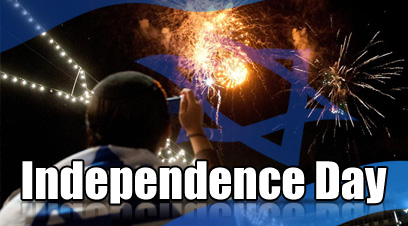 Peres hosts independence party
Photo: Gil Yohanan

Time for celebration
Photo: Yaron Brener

Sigalit Bezaleli. Lit the main torch with Rivlin
Photo: Ohad Zwigenberg

Mount Herzl
Photo: Shahar Chai
He's 89 years old and Israel is only 64, but President Shimon Peres is once again honoring the State and hosting Israel's birthday celebrations at his official residence.
As many Israelis slept off Wednesday night's celebrations, Shimon Peres hosted Israel's main birthday celebrations at his official residence on Thursday under the headline "Singing Independence with the president."
Related stories:
The event was launched with a celebratory flyover of combat planes and helicopters. At the end of the flyover President Peres and Chief of Staff Lieutenant General Benny Gantz reviewed the 120 troops that are receiving the President's award for excellence.
Peres, Gantz review troops (Photo: Gil Yohanan)
Peres then handed out the President's award for excellence to the troops, congratulating them the President said: "The people see you as the best of an excellent military. You add 120 new hopes."
"Israel today is stronger than ever, and capable of defending itself," said Peres. The president added that Israel is blessed with many things but mostly it has the rare gift of innovation. It can surprise, collect new abilities, and creatively move forward."
Peres then spoke about external threats, noting: "To those once again threatening Israel I say – do not repeat the mistakes of your predecessors. Your threats come from an appetite for conquering.
Peres with excelling soldiers (Photo: Yosef Avi Yair Engel)
"We defend while aspiring for peace. The wars, which Israel did not initiate, brought her unexpected achievements and the aggressors suffered unimaginable losses," Peres added.
IDF Chief of Staff Benny gantz also spoke ahead of the award ceremony and said: "When I look today at these excelling soldiers I see the future. I look at them and see what the IDF command will look like in 10 years and in 20 years."
"Singing independence with the president" saw President Shimon Peres, Prime Minister Benjamin Netanyahu, Defense Minister Ehud Barak and the chief of staff singing their favorite Independence Day songs. They were accompanied by children and famous Israeli singers.
From sadness to celebration
The flyover will see F-16 fighter jets, Yas'ur choppers (CH-53 Sea Stallion) and Boeing 707 refueling jets take to the skies for the enjoyment of Israeli citizens throughout the country.
Israelis continue to celebrate (Photo: Moti Kimchi)
Independence Day is also a traditional day for barbeques with Israelis flocking to national parks and any available green space. The celebrations will all be accompanied by perfect weather.
On Wednesday night Israel concluded its Memorial Day events and turned to celebrating its 64th anniversary. Celebrations kicked off in the traditional lighting of the torches ceremony in Mount Herzl.
Knesset Speaker Reuven Rivlin lit the main torch together with Yaron and Sigalit Bezaleli, the parents of First Lieutenant Hila Bezaleli who was killed in the stage collapse incident in Mount Herzl last week.
He further added, "The fight against those who burn mosques is not between leftists and settlers – it's a fight against fanatics. The struggle against those who spit in the face of an 8-year-ild is not a struggle between seculars and haredim – it's a struggle against the fanatic fringes of society."
Traditional state ceremony in Mount Herzl
Sigalit Bezaleli said prior to the ceremony, "I feel pride on the one hand, but on the other I see the site and have no words. I am truly divided. "
She said that had her daughter taken part in the ceremony as she had planned "she would have been excited, proud and optimistic."
After the lighting of the torches, IDF flag-bearers appeared in missing formation, without Bezaleli.
In order to prevent a second disaster, cranes were placed in order to support the platform's lighting fixtures.
The theme of this year's ceremony is "Water – the Source of Life."
The ceremony usually ends with the traditional Hora dance against a backdrop of fireworks but this year it has been decided to scale back the celebrations in light of last week's tragic accident.
Shahar Chaicontributed to the report