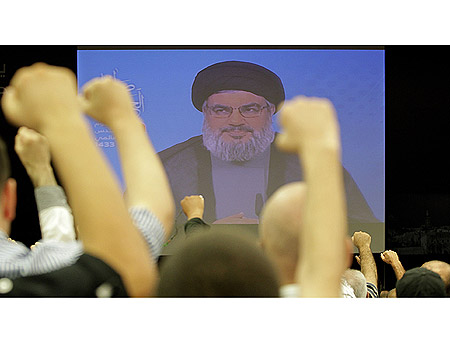 Nasrallah in a televised speech (Archives)
Photo: AFP
The Egyptian government-backed newspaper Al-Gomhuria reported Thursday that Hezbollah held an unprecedentedly large military-style exercise this week, which included over 10,000 of its operatives.
According to the report, the drill was personally supervised by Hezbollah Chief Sheikh Hassan Nasrallah.
Related stories:
The maneuvers spanned three days and were also supervised by "top officials" from the Iranian Revolutionary Guards, the paper reported.
According to the report, the drill "simulated actual fighting and defending of strategic villages, as well as contingencies to raiding and occupying areas in the Israeli Upper Galilee – something Nasrallah has called for in the past."
The newspaper said that the majority of the exercise took place at the Beqaa Valley, which it hedged may be the scene for any potential battle between Israel and Hezbollah; as the area is both dominated by the Shiite organization and includes key weapon delivery routes.
Hezbollah forces in southern Lebanon (Archives: AFP)
The report also said that Hezbollah operatives have been instructed to prepare the residents of southern Lebanon for the possibility of war. The organization has also been preparing shelters for the residents of the border-adjacent villages, the report said.
The newspaper added that in a recent meeting between Nasrallah and Said Jalili, who serves as secretary-general to Iran's National Security Council negotiator, the latter had ordered him to prepare for a possible conflict between Iran and Israel, in which Lebanon will play a key role.
The report also noted that some 2,000 Hezbollah operatives were participating in maneuvers held by the Revolutionary Guards in Iran.
Receive Ynetnews updates directly to your desktop