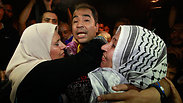 Prisoner exchange
Photo: Reuters
In 2005, Kinneret Mandel and her cousin were traveling from Jerusalem to their home in south Mt. Hebron. They stood waiting at a bus stop that is also a popular hitchhiking site. Suddenly, gunfire echoed as several Palestinians in a passing car opened fire and sped away.
Mandel, 23, her cousin Matat Rosenfeld-Adler, 21, and Oz Ben Meir, 14, were all killed in the attack. On Wednesday, Kinneret's mother Rivka sat in a committee room in the Israeli parliament holding framed pictures of Kinneret and Matat. She came as part of a new organization called "The Cry of the Mother," which aims to stop the Israeli government from releasing any more Palestinian prisoners.
Related stories:
In the Mandel case, it took six months to track down the killers. During that time, according to the Israeli government, the attackers killed yet another Israeli. Before the drive-by shooting, they had already killed two others as well as an Arab passerby who died from a stray bullet during an attack on Israeli soldiers.
Finally discovered in 2006, one of the Palestinian attackers was shot dead during the arrest and three others who were taken alive were convicted and sentenced to eight consecutive life terms.
Yet, in 2011 – just five years later – they were among the more than 1,000 Palestinian prisoners freed in exchange for captured Israeli soldier Gilad Shalit. Most of the prisoners were affiliated with Hamas, which controls the Gaza Strip, and planned Shalit's kidnapping.
"This just proves that prisoners who are released will kill again," Rivka Mandel told The Media Line. "If someone who killed six people is freed, he will kill again."
Early next week, another prisoner release is scheduled. It is part of a four-stage release that Israel approved as part of the resumption of peace talks with the Palestinians that are being brokered by US Secretary of State John Kerry. Among those scheduled to be freed are Salim Suleiman Mohammed and Adam Ibrahim Juma'a, jailed in 1988 for throwing Molotov cocktails at a bus near Jericho, killing an Israeli soldier, a woman and her three children.
"These prisoners aren't going home to do needlepoint," Sherri Mandell (no relations to Rivka), whose son Koby was murdered in 2001, and who has become a spokeswoman for bereaved parents, told The Media Line. "We can't just sit back and let the prisoner releases happen. They're killers and it's simply unjust."
At the Knesset, the mothers met with legislator and Deputy Defense Minister Danny Danon, who has been an outspoken opponent of prisoner releases and of Prime Minister Benjamin Netanyahu. Danon kicked off the meeting with a list of this week's terrorist attacks on Israelis including a bomb on a bus in a suburb of Tel Aviv, the stabbing of an Israeli policeman, and the killing of an Israeli-Arab defense ministry contractor near the Gaza Strip.
"Many of the government ministers who voted in favor of the prisoner release tell me they would vote differently now," Danon told the bereaved mothers. "I demand that the prime minister freeze the prisoner release immediately and reopen the discussion."
MK Orit Struck, who lives in a Jewish community in Hebron, called the Palestinians "a society of murderers."
The women said their pain at losing a child has pushed them to demand an end to future prisoner releases.
"Instead of bringing a picture of my son, I thought about bringing an empty picture frame," Zahava Gilmore, whose son Eish Kodesh was shot in 2001 while he was working as a guard at a social security office in east Jerusalem. "That picture frame would show all of the Israelis who will be killed in the future if these prisoner releases go forward."
The issue of prisoner releases is controversial in Israel. While the public overwhelmingly supported the mass release of prisoners to achieve the repatriation of soldier Shalit, the prisoner releases Israel agreed to as a courtesy to Kerry are seen as an unnecessary and unearned concession to the Palestinians and are opposed by a firm majority of the population according to polls.
There is a debate within Israel over what percentage of freed Palestinians return to terrorism. At least 14 of those arrested in the Shalit deal were re-arrested, some for involvement in terrorism, others for violating the conditions of their release, such as leaving their home towns. Israel has also freed some of the detainees on the condition they go into exile, either in the Gaza strip or abroad.
The next scheduled prisoner release takes place amid a backdrop of growing violence. Secretary of State Kerry is expected to present a framework agreement to Israelis and Palestinians next month, in an effort to bridge the still large gaps.
Polls on both sides show there is deep skepticism about the chances for an agreement, and the current wave of violence is likely to deepen those feelings. Yet the Israeli government has committed to the four prisoner releases and it seems unlikely that they will not go through.
Article written by Linda Gradstein
Reprinted with permission from The Media Line
Receive Ynetnews updates directly to your desktop