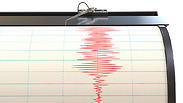 Illustration
Photo: Shutterstock
A mild earthquake was felt in the north of Israel on Saturday afternoon. No damages or injuries were reported.
Dr. Uri Friedlander, the head of the Geophysical Institute of Israel, told Ynet that the quake struck in the mediterranean north of Cyprus and tremors were felt in Israel.
Related stories:
According to the American Geophysical Institute, the quake struck at 5:21 pm and its epicenter was some 80km (approximately 50 miles) away from Turkey, measured 5.8 on the Richter Scale.
Orna from Haifa told Ynet: "I definitely felt the earthquake. I live on the 11th floor, and for 30 seconds, everything around me was shaking – the table, the computer and the tea in my cup. I had to step away; things were moving. I considered hiding under the table, but finally it just ended."
Daniel, who lives on the ninth floor of a highrise in Israel's north, said: "It lasted 10-15 seconds... Not too many things moved around, but there was a jolt, I saw things hanging on the wall moving from side to side. My parents also felt it... What's important is that it's over."
Nir Barzilai, who lives on the eight floor of his apartment in Kiryat Yam said: "The entire house was shaking. The bed was rocking. It was scary, and lasted about 20 seconds. Zvika from Kiryat Motzkin says: "I was lying on my couch, and felt like I was starting to move around the living room."
Several citizens reported to have felt the quake in other regions in Israel, from Rishon LeZion and Petach Tikva in the center to Beersheba in the south.
In late October, a series of quakes were detected in northern Israel. The recent quake's epicenter was located northwest of Lake Kinneret some 5 kilometers (about 3 miles) northeast of Kibbutz Ginosar. There were no reports of injury or damage.
Einat Alfasa contributed to this report.
Receive Ynetnews updates directly to your desktop