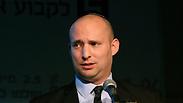 Bennett offers to make peace with aliens
Photo: Aner Green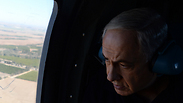 PM says talks in our interest
Photo: Kobi Gideon, GPO
Netanyahu: Talks in our interest, but Palestinian must recognize Jewish state
After Livni warned of economic dangers of talks' failure, Netanyahu claims talks in Israel's interest, Palestinian must give up territorial demands. Meanwhile, Bennett pokes fun at Livni: 'Maybe we'll make peace with aliens'
Hours before the third wave of Palestinian prisoners are expected to be released and after Israel's chief peace negotiator warned of the economic dangers of failing to reach an agreement with the Palestinians, political tensions regarding peace talks reached a new high.

While Prime Minister Benjamin Netanyahu stressed the strategic importance of peace talks, Defense Minister Moshe Ya'alon claimed that between rockets and boycott, Israel prefers a boycott. Meanwhile Economy Minister Naftali Bennett took a jab at negotiations, offering Justice Minister and chief negotiator Tzipi Livni to try to make peace with extraterrestrials instead of the Palestinians.

Related stories:

At a Likud-Beiteinu faction meeting, Netanyahu said: "The state of Israel has a strategic interest in the existence of political negotiations. Both sides have taken it upon themselves to avoid unilateral steps in the international arena."

Netanyahu clarified Israel's conditions for reaching an agreement with the Palestinians, saying a deal would be signed "only if Israel will be recognized as the nation state of the Jewish people, and only if the Palestinians give up their dream of the right of return or any other demand on the territory of the Jewish nation. Above all, (an agreement) will be possible if Israel will be able to defend itself in the face of any threat it faces.

"In any case, any agreement which will be reached will be put to a national referendum."

Nonetheless, Netanyahu added that, "Leadership is tested by its ability to reach decisions – difficult as they may be."

Defense Minister Moshe Ya'alon spoke at the Calcalist committee and said: "If the alternatives are a European boycott or rockets from Nablus, Jenin, or Ramallah on Israeli cities, on our strategic homefront, on Ben Gurion Airport – we'll take the European boycott."

He added, "Anyone who thinks the conflict will end on the '67 lines is simply wrong. We don't have to talk too much about the solution; we need to talk about the way. We're pressuring ourselves with all sorts of statements about time working against us."

Bennett took a jab at Livni's comments that "the issues is not if there is a Palestinian partner or not. We must set a goal for ourselves – if there is no Palestinian partner - we must make peace with the world. "

On his Facebook page, Bennett joked saying, "The next step – if there's no Palestinian partner, we'll go for peace with aliens."

Tensions have been running high as the release of the Palestinian prisoners nears.

Opposition Chairman Isaac Herzog addressed the Monday release of the prisoners, saying: "To release them with nothing real in return is immoral. We allow this move to promote the negotiations, which are vital for the future of the country, but we will not allow the prisoner release to turn into a real estate deal."

Herzog added that "to say now that we prepare for building across the Green Line, only to destroy the process for which we are doing this immoral move, only shows what failure comes from the Israeli right."