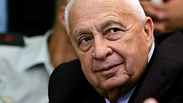 Ariel Sharon
Photo: Reuters
Ariel Sharon's family members continued their vigil by the bedside of the former soldier and prime minister on Thursday morning, after doctors told them that his vital organs are failing and it is a matter of days or even hours before he succumbs.
Sharon, now 85, has been in a coma since January 2006, when he suffered a massive stroke at his Sycamore Ranch in the Negev.
Speaking Thursday morning outside Sheba Medical Center in Tel Hashomer, where Sharon is receiving long-term care, hospital director Prof. Zeev Rotstein told reporters that there has been a serious deterioration in the former prime minister's condition in recent days. "The sense of the doctors and the family today is that there has been a change for the worse," Rotstein said.
He said that there had been no change in the treatment Sharon was receiving, and that there had been no decision to give him dialysis for his kidney failure. Sharon was in critical condition and his life was in danger, Rotstein said.
The former leader's condition worsened about a month ago, and he underwent emergency surgery to stabilize him. But in the past few days, doctors have been further troubled by his deterioration.
Professor Mordechai Ravid, director of Mayanei Hayeshua Medical Center in Bnei Brak, told Ynet on Wednesday that Sharon's kidneys have been damaged for some time.
"In patients such as Sharon, there is always a chronic infection that spreads to the kidneys, and that is what has led him to the critical condition he is in," said Ravid, who noted that Sharon's blood pressure is stable, although this condition may change soon.
The first signs of a medical crisis came in late December 2005, when Sharon suffered a small stroke, and was hospitalized for several days at Hadassah Ein Kerem Hospital in Jerusalem.
On January 4, 2006, just days after returning to his post as prime minister, Sharon suffered another, more critical stroke, and was once again admitted to hospital. His authority was transferred to his deputy prime minister, Ehud Olmert, who took over as head of the Kadima party Sharon had founded months earlier, after members of his Likud party had vehemently opposed Sharon's plan to ended the 38-year Israeli occupation of the Gaza Strip.
Married and widowed twice, Sharon has two sons, Gilad and Omri, and several grandchildren. His eldest son, Gur, died in 1967; his first wife, Margalit, died in 1962, and his second wife (and Margalit's sister), Lily, passed away in 2000.