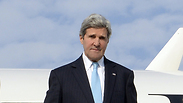 John Kerry arrives in Israel
Photo: Matti Stern, US embassy
US Secretary of State John Kerry has arrived in Israel as peace talks aimed at reaching a two-state solution between the Israelis and Palestinians enter a difficult phase.
In a joint press conference with the US secretary of state, PM Netanyahu said that doubts about the Palestinians's commitment to peace are mounting in Israel.
"There is growing doubt in Israel that the Palestinians are committed to peace," Netanyahu said, with Kerry at his side, at the start of their talks in Jerusalem. The prime minister added that the Palestinians "need to be prepared to truly end the conflict."
Related stories:
Netanyahu criticized Abbas's actions, saying the Palestinian president embraced terrorists as heroes when he welcomed Palestinian prisoners' release from Israeli detention. "To glorify the murderers of innocent women and men as heroes is an outrage," Netanyahu said. "How can he say he stands against terrorism when he embraces the perpetrators of terrorism and glorifies them as heroes?"
Netanyahu continued, "I'm wondering what a young Palestinian would think when he sees the leader of the Palestinian people embrace people who axed innocent men and women, axed their heads or blew them up or riddled them with bullets. What's a young Palestinian supposed to think about the future?"
He said Abbas did not condemn recent attacks against Israel and accused the Palestinian Authority of continuing its "unabated incitement against the state of Israel." Netanyahu said Abbas must lead the Palestinians toward reconciliation and peace, which he said he is prepared to make.
Addressing the peace process, Kerry said: "This is not mission impossible."
Kerry insisted the peace process is still on track and said he plans to work intensely with both sides over the next couple of days to narrow differences on a framework that will outline a final peace accord. Kerry said he knows there is a lot of skepticism about whether the two parties can achieve peace, but he said "the time is soon arriving when leaders are going to have to make difficult decisions."
"We're close to that point, or at it," Kerry said. "In the weeks and months ahead, both sides are going to need to make tough choices to ensure that peace is not just a possibility but is a reality."
"It is hard work, but with a determined effort, I'm convinced that we can get there," Kerry said.
The US secretary commended both Netanyahu and PA President Mahmoud Abbas for their diplomatic efforts.
Kerry landed In Tel Aviv on Thursday, and made his way to Jerusalem for talks with Prime Minister Benjamin Netanyahu. On Friday, Kerry will travel to the West Bank for talks with Palestinian President Mahmoud Abbas.
His visit, the 10th to the region in under a year, aims to lay the foundations of a "framework agreement" that addresses the core issues of the decades-old conflict and open the way for an independent Palestine, according to US officials.
Kerry is asking both leaders to make tough, highly charged political decisions that would yield the contours of an eventual peace treaty, creating a Palestinian state alongside Israel.
Negotiators from both sides have had some 20 rounds of talks since the summer, and this is Kerry's tenth trip to the region to help craft the final peace accord.
Before Kerry's arrival, senior Likud members – including Deputy Foreign Minister Ze'ev Elkin, Interior Minister Gideon Sa'ar and coalition chairman Yariv Levin – travelled to the Jordan Valley, along with several Habayit Hayehudi MKs for a tour seen to be sending a Kerry message on territorial concessions.
Sa'ar used the tour to reiterate his opposition to territorial concessions: "Where there is no settlement, there will be no IDF . Where there is no IDF, there will be terrorism. Our stance is clear: The Jordan Valley is Israeli and will remain Israeli."
Elkin also rejected the creation of a Palestinian state based on the lines pre-dating the 1967 Six Day War: "The Jordan Valley must be under Israeli sovereignty forever," he said, referring to the border area with Jordan, from which Palestinians want a full Israeli withdrawal.
The Associated Press and Reuters contributed to this report