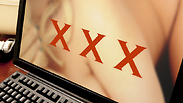 Illustration
Photo: Shutterstock
Israel has outlawed revenge porn, turning it into an offense punishable by up to five years in prison.

The Knesset authorized in a second and third reading an amendment to the Sexual Harassment Prevention Bill, according to which no video or image of sexual character can be uploaded to the internet, specifically to social media.

The amendment was led my MK Yifat Kariv (Yesh Atid), and now uploading 'revenge porn' without the victim's knowledge will be considered sexual harassment, punishable with up to five years in jail.

Related stories:

The bill passed by 31 votes in favor and none against.

Kariv formulated the bill in the wake of an incident brought to her attention by her constituency. In the incident, a young woman was filmed having sexual relations with her partner, only to have the video uploaded to the mobile chat application WhatsApp and forwarded to thousands of people after the couple broke up.

"We are witness to more and more incidents of sexual attacks being documented and distributed to the public without the offenders being punished," MK Kariv said after vote passed.

"Legislative intervention is needed to fight this horrible phenomenon of 'virtual rape.' It is clear the legislation is always trailing technological developments. But this bill is groundbreaking, and its passing is a great victory for victims of sexual assault."

MK Kariv further noted that "we need to understanding the distributing images and videos like these is not some kind of a joke, the can destroy somebody's life by turning them into a porn star against their will."

Head of the Knesset's Committee on the Status of Women, MK Eliza Lavi said that "during committee deliberations there were those who were afraid the bill infringes on freedom of speech," she said, adding that the issue was properly addressed by promising that videos that have an interest to the public or were uploaded by mistake will not be included. Now, she says, the bill is nothing short of revolutionary.

"The Sexual Harassment Prevention Bill was ratified some 15 years ago. Since then massive technological developments have taken place. This rapid technological growth poses new challenges, and legislation alone will not deal with this. We need to get parents and education officials involved."