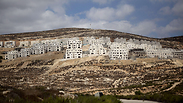 PGGM of the Netherlands, one of the 20 largest pension asset managers globally, said Wednesday it has divested from five Israeli banks because they are involved in financing the construction of Jewish settlements in the West Bank.

In financial terms the move is not that significant, given that PGGM had only several tens of millions invested in the banks out of the more than $170 billion in assets it manages. Yet it is the latest in a string of rebuffs to hit Israel over its settlement policies.

PGGM spokesman Wout Dekker confirmed the move first reported by Haaretz. He said the decision followed years of discussions with the banks.

Related stories:

PGGM said it considers the settlements unethical due to the International Court of Justice's 2004 advisory opinion that found they were an illegal violation of Palestinian rights.

"In line with our policy of responsible investment, we sought a dialogue with the banks," PGGM said. "However, from those talks it emerged that the banks have little to no room to end their involvement in the financing of settlements in the occupied territories, given Israeli national law and the everyday reality in which they operate."

PGGM, however, maintains its investments in the Republic of Angola, Chevron, Exxon, and Wal-Mart.

Some 550,000 Israelis now live in settlements in the West Bank and east Jerusalem, captured by Israel in 1967 along with the Gaza Strip. The 2.5 million Palestinians living in the West Bank want a state in those lands and say Israel's settlement building program jeopardizes peace talks and pre-empts their outcome.

Israeli Foreign Ministry spokesman Yigal Palmor slammed PGGM for the move.

"Apparently there is no limit to the self-righteousness of those who took this decision," he said. "Abusing legal pretenses can only backfire."

The banks affected by the decision were identified as Bank Hapoalim, Bank Leumi, First International Bank of Israel, Israel Discount Bank and Mizrahi Tefahot Bank.

The Union of Israeli Banks, a trade association representing the five banks, declined to comment on the move.

Numerous pension funds in Scandinavia and the Netherlands have already divested in Israeli defense contractor Elbit Systems over concerns about its activities in the territories.

Up until last month, the European Union had been considering measures to clearly label products made in the settlements, a move that could harm sales. But discussions on labeling have been put on hold for now because Europe is working closely with US Secretary of State John Kerry to support ongoing Israeli-Palestinian negotiations that are supposed to conclude in April.

Last month, the American Studies Association, a 3,800-member group of American scholars, endorsed a boycott of Israeli universities.

Also in December, Vitens, the largest supplier of drinking water in the Netherlands, decided to end cooperation on projects with Israel's national water carrier Mekorot over its operations in West Bank settlements.