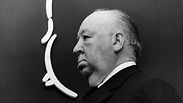 Alfred Hitchcock
Photo: Getty Images
Film and television viewers around the world, who are familiar with Alfred Hitchcock's thrillers, are in for a surprise: A lost documentary about the Holocaust filmed by the legendary English director will be aired on British television next year.

The film, "The Memory of the Camps," will be broadcast after being reconstructed by the Imperial War Museum (IWM).

Never Forget

'Waltz with Bashir' director working on animated feature based on life, diary of famous Holocaust victim. 'There is a real need for new artistic material to keep the memory alive,' he says

Hitchcock began working on the film in 1945, after being asked by his business patron Sidney Bernstein to create a documentary about the horrors of the Holocaust. He collected footage filmed by British soldiers who arrived at the Nazi death camps towards the end of World War II.

Dr. Toby Haggith, senior curator at the IWM's Department of Research, told The Independent that "once they discovered the camps, the Americans and British were keen to release a film very quickly that would show the camps and get the German people to accept their responsibility for the atrocities that were there."

The production of the film took longer than expected, and once it was completed, the British government decided not to approve is as, according to The Independent, "rubbing the Germans' noses in their own guilt wouldn't help with postwar reconstruction."

Five of the documentary's six reels of film were deposited in the IWM, and discovered 35 years later by an American researcher. An incomplete version of the film was screened in front of a small audience at the Berlin Film Festival.

Recently, the IWM restored it using digital technology and pieced together the extra material from the missing sixth reel. According to The Independent, the original film about the camps and a new documentary, "Night Will Fall," will be shown on British TV in early 2015 to mark the 70th anniversary of Europe's liberation.