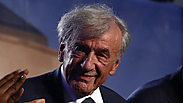 Artists display reactions to world described by in writings of Elie Wiesel
Photo: AP
A moving first-of-its-kind exhibition showcasing the works of Jewish artists from the former Soviet Union, memorializing the Holocaust, will be on display and open to the public free of charge in Jerusalem for one month beginning with its opening on Sunday, December 29.

The idea for the exhibit was born during the Limmud FSU Jerusalem festival, which took place last month with the support of the Israel-based Hashava Company and the Menachem Begin Heritage Center, which is hosting the exhibition.

25 Years On

Jewish Historical Society of Greater Washington working to ensure years of efforts to save Jews trapped behind Iron curtain are not forgotten, with exhibition called Voices of Vigil

Entitled, "Becoming a Witness," the exhibit features works commemorating the Holocaust by Jewish artists from the Former Soviet Union. They were inspired by the writings of Elie Wiesel, particularly his well-known book "Night", the distribution and reading of which were banned in the Soviet Union.

The exhibit appears to be the first time Jewish artists from the Former Soviet Union are presenting works about the Holocaust on this scale. The Soviet regime intentionally focused public memory of the World War II period on the bravery and victory of the Soviet Army and not the horrors of the Nazi genocide.

Following the war Soviet Jews were not permitted to publicly discuss the Holocaust and there was no education or access to information about the atrocities.

The seven artists participating in the exhibition are Julia Shulman, Liora Barstein, Michael Morgenstern, Igor Ganikovsky, Lea Zarembo, Lev Saksonov, and the late Meir Axelrod. The exhibit is being curated by Axelrod's grandson, Michael Yakhilevich.

"This is not an easy exhibition to visit. A world that was once vibrant and very much alive is no more, stamped into oblivion by the forces of a modern Dark Age," said Chaim Chesler, founder of Limmud FSU, who initiated the exhibition.

"The artists represented here have been exposed to the writings of Elie Wiesel, perhaps the world's foremost chronicler of the Holocaust. And their reactions to the world he described will be, in part, displayed here. The works reflect on this bleakest of times where despite overwhelming destruction, humanity endured."

"Though he was never in a concentration camp himself, the trauma of the Holocaust haunted Menachem Begin throughout his life as a Jewish leader, whether in his struggle against German reparations or in his dedication to the Jewish homeland and its defense, which he viewed as preventing a second Holocaust," said Herzl Makov, who heads the Menachem Begin Heritage Center.

"These works serve as a living memorial to those who suffered through those dark times, and are important in the preservation of the heritage of those who were lost during the Holocaust."