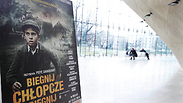 Posters advertising 'Run, Boy, Run' displayed at Museum of History of Polish Jews
Photo: AP
A stirring movie by German Oscar-winning director Pepe Danquart about a Jewish boy struggling to survive the Holocaust had its world premiere in Warsaw on Wednesday.

A German-French coproduction with mostly Polish actors, "Run, Boy, Run" is the true story of 10-year-old Yoram Friedman who escaped the Warsaw ghetto in 1943 and – hunted by the Nazis – hid in the woods near the city. The child fed on snails and mushrooms, braved winter snow storms and hid in water to avoid Nazi sniffer dogs.

Lost Film

Legendary director's lost documentary, showing horrors of Nazi death camps, to be aired on British television next year

He occasionally got help from farmers, but also faced indifference, hatred and betrayal. Posing as a Catholic Pole, assuming the name Jurek Staniak, helped him find lodgings in exchange for work on farms.

His right hand was badly injured in an accident, but a surgeon refused to operate after discovering that the boy was Jewish. Another surgeon treated him, but too late to save the arm from amputation.

Talking to The Associated Press on the eve of the premiere, Friedman said he does not live in the past.

"I don't go back to that. What happened, happened," he said. He admitted, however, that dreams about his ordeal were still haunting him a decade ago.

He remembers the words of his father – quoted in the film – before he sacrificed his life for the boy: "Conceal that you are Jewish but never forget that you are Jewish."

Friedman believes the movie will reach many people around the globe with the message that "we must never forget that this really took place." He is now about 80 years old, not sure if he was born in 1933 or 1934.
'Adventure of a kid in the middle of the Holocaust'
Danquart, whose "Black Rider" won the 1993 short movie Oscar, told the AP the fact that a German director has made a story about a Jewish boy in the Holocaust that opens in Poland is a "sign of the new time, of a Europe that has come together ... and that as people, as humans we can talk about it."
Despite its dramatic story, the movie is attractive to watch, thanks to the beauty of nature in it and the inner innocence that the boy keeps, despite his ordeal.
"It's not really a Holocaust movie. It's more the adventure of a kid in the middle of the Holocaust," Danquart said. His goal was to interest young viewers with a point of view that is more about life than death.
Friedman's family, except for one sister, died during the Holocaust, and after the war he was taken to a Jewish orphanage in Poland. He studied mathematics and moved to Israel in 1962, and worked as a teacher there for 40 years.
This week he is back to Warsaw for the premiere with his wife, Sonia; his daughter, Michal; his son, Zwi; and some of his six grandchildren.
Jews represented about 10% of Poland's population of some 35 million before the war, but they were half of Poland's more than six million war victims.
The premiere at Warsaw's Jewish History Museum also will be attended by Danquart and Israeli writer Uri Orlev, who told Friedman's story in a 2001 book. The movie is to be released in Germany, the US, Israel and Japan, among others.