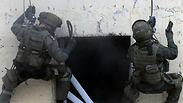 Special Central Unit (Yamam)
Photo: Haim Zach, GPO
Prime Minister Benjamin Netanyahu visited with Israel's elite SWAT unit and received a live taste of what these forces do best.

Yamam in action (Video: IDF / Editor: Gil Golan) (דוברות צהל)

Israel's Special Central Unit (Yamam) – an elite counter-terrorism unit also charged with SWAT missions – received a special citation of honor for their arrest of the Palestinians behind the Bat Yam bus bombing.

Yamam

Mentally unstable man takes niece hostage, barricades himself in apartment. After two hours of failed negotiations to secure release, elite counter-terrorism unit rappels down side of building, performs dramatic rescue operation

During his visit, the prime minister was given a special screening of extreme rescue operations which the unit has performed, including the daring rescue of an Ashkelon girl taken captive by her mentally unstable uncle who threatened to blow up a residential apartment with him and the girl inside; in addition to other operation videos shot from helmet-cams.

Netanyahu spoke with the forces and told them that 2013 saw a significant reduction in attempted terror attacks on Israel.

"This is a result of the important work done by the IDF and security forces, including elite units like the Yamam. We need to learn what they do, and how they save lives day in and day out," the prime minister said.

In recent months, in addition to apprehending the terrorists behind the Bat Yam bombing and rescuing the niece from her deranged uncle, the Yamam were also involved in neutralizing a Salafist terror cell south of Mount Hebron.

Despite their impressive track record and show of force as a unit, a group of 'terror monkeys' – a sub-unit of Yamam forces specializing in climbing missions – stole the show.