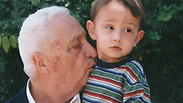 Sharon to be laid to rest Monday
Photo: Shaul Golan
Israel will bid its farewell to former prime minister and one of the most prominent commanders of all times on Sunday. The casket of Israel's 11th prime minister Ariel Sharon will be placed in the Knesset plaza from 12:00 noon until 18:00 so the public can pay its last respects.

Ynet Special

Ynet's senior military analyst Ron Ben Yishai speaks of Ariel Sharon, a military and political commander he knew, and says Sharon was not a warmonger, but rather Ben Gurion's true disciple, only interested in Israel's survival

A Knesset memorial service in honor of Sharon will be held on Monday morning at 09:30 am, and at 14:00 pm he will be laid to rest beside his wife Lily at Anemones Hill nearby the Sharon family's northern Negev Sycamore Ranch.

The Knesset's Ceremonies Committee, headed by Minister Limor Livnat, met Saturday night and confirmed the funeral arrangements. At the same time, Sharon's sons Omri and Gilad went to the burial plot for logistical preparations.

Minister Limor Livnat said that after a memorial service in the Knesset, "Sharon's funeral procession will leave towards the Sycamore Ranch for a small service. The funeral itself will be a state funeral and the ceremony a military one. Six army generals well be his pallbearers."

According to her, among those expected to speak at the service are Israeli President Shimon Peres, Knesset Speaker Yuli Edelstein, Prime Minister Benjamin Netanyahu, Sharon's two sons Omri and Gilad, US Vice President Joe Biden and former British Prime Minister Tony Blair.

Related stories:

Leaders from all countries and many guests from abroad, including Vice President of the United States Joe Biden, will attend the former prime minister's funeral. The compound where his funeral service is to take place will be divided into three areas: Only family and close friends will be present at the burial plot, another area will be for VIPs such as ministers, and the general public will be able to pay its respects in a separate area.

US Vice President Joe Biden will lead US representatives at Sharon's memorial service, the White House said on Saturday, in a brief statement following the former Israeli prime minister's death.

"I look forward to leading the US delegation to his memorial service, to pay respects to the man and to pay tribute to the unshakeable partnership between the United States and Israel," the statement said.

"We send our condolences to his family and to his beloved nation of Israel," it added.

Attila Somfalvi, Noam (Dabul) Dvir, and AFP contributed to this report.