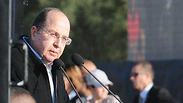 Moshe Ya'alon
Photo: Herzl Yosef
Defense Minister Moshe Ya'alon's remarks about US Secretary of State John Kerry, calling his efforts "misplaced obsession and messianic fervor," unleashed a rash of furious comments in the Knesset's hallways on Tuesday, with chief negotiator Tzipi Livni accusing him of damaging bilateral relations.
MK Amram Mitzna (Hatnua) called Ya'alon's remarks "shameless."
"It's absurd and it lacks responsibility that he's sending poison arrows to the Americans" he said.
Ya'alon's Comments
Ya'alon: Kerry should win his Nobel and leave us alone
MK Ayelet Shaked of the pro-settlement Habayit Hayehudi said, however, that Ya'alon was right.
"The State of Israel can't sacrifice its security and it can't outsource the state's security to sensors," she said. "(Palestinian President) Mahmoud Abbas came out just this week with Nazi-like statements against the Jewish state, and Palestinian incitement is continuing. We need to straighten out our attitude and understand – there won't be peace here."
The leader of the opposition MK Isaac Herzog (Labor ) called for ministers Tzipi Livni and Yair Lapid to resign from the government.
"Kerry has been making every effort possible. It won't be tolerated if he's slandered," he said. "I've met with him twice this month and I found a determined man, a political leader who tells the same truths to both sides."
Justice Minister Livni wrote on her Facebook page that Kerry should be commended for his efforts, and that no one had the right to destroy Israel's friendship with the US.
"Our relations with the US are our biggest national strategic asset, and they are vital for Israel's security," he said. "You can oppose the negotiations and still not verbally attack and damage our relationship with our best ally."
Ya'alon expressed his great skepticism of Kerry and the US's efforts, both in private conversations in Israel and in the US.
"The American security plan presented to us is not worth the paper it's written on," Ya'alon said. "It contains no peace and no security. Only our continued presence in Judea and Samaria and the Jordan River will endure that Ben-Gurion Airport and Netanya don't become targets for rockets from every direction. "
He called Kerry's passion out of place.
"American Secretary of State John Kerry, who turned up here determined and acting out of misplaced obsession and messianic fervor, cannot teach me anything about the conflict with the Palestinians."