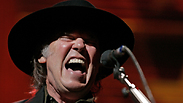 Neil Young. Coming to Israel this summer
Photo: AP
VIDEO - Another rock legend will be making its way to Israel this summer: Neil Young, one of the most important and influential figures in the history of rock music, is expected to visit the Holy Land in July for one concert, Ynet has learned.

The Shuki Weiss production company, which will be bringing the singer to Israel, said in an official statement Wednesday that the concert will be held on July 17 at Tel Aviv's Yarkon Park.

Summer Rocks

New music festival brings two of biggest names in 90s rock to Israel for first time. Pixies were scheduled to appear in Israel in 2010, but canceled in aftermath of Gaza flotilla incident

Tickets are currently being sold online, with prices ranging from NIS 340 (about $97) to NIS 1,400 ($400) for VIP seating.

Neil Young was born in Toronto, Canada in 1945. He began performing on his own with an acoustic guitar and harmonica, and in 1966 he moved to the United States and joined the Buffalo Springfield band as a guitarist. When the band split up, he launched a solo career and recorded his debut album, "Neil Young," in 1968.

In 1969, he joined the members of the Rockets band, which later changed its name to Crazy Horse, and together they recorded the highly successful album "Everybody Knows this is Nowhere." Later that year, Young Joined Crosby, Stills & Nash as a fourth member, but continued recording albums with Crazy Horse.

In 1972, Young released the album "Harvest," which included the classic "Heart of Gold," and became his most successful album until then. Due to the death of friends and colleagues, the 1970s were a gloomy period in Young's life, and his albums from that time – including "Zuma" and "American Stars 'N Bars" – reflect his personal pain.

Over the years, Young's work became more political and social, and in the 1980s he released albums which his fans and critics considered disappointing due to his attempt at electronic music and country music.

"Freedom," released in 1989, was considered by many as Young's return to his prime years, mostly thanks to the song "Rockin' in the Free World," which turned into one of the singer's biggest hits.

The 1992 album "Harvest Moon" was a return to the acoustic sound. In the 1990s, Young was nicknamed the "Godfather of Grunge" due to his direct influence on the work of that period's most successful rock bands, including Nirvana and Pearl Jam. Young even joined forces with Pearl Jam several times, and its members were featured in his album "Mirror Ball."

His latest album, "Psychedelic Pill," was released in 2012 and received positive reviews.

This will be Neil Young's second visit to Israel. In the summer of 1995, he performed with Pearl Jam members (excluding lead vocalist Eddie Vedder) at Jerusalem's Sultan Pool and at the Caesarea Amphitheater.