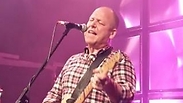 The Pixies front man Black Francis
Photo: Carl Lahmi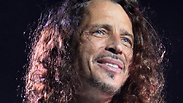 Soundgarden front man Cornell
Photo: AFP
Iconic rock bands Soundgarden and Pixies will perform in Israel for the first time in their careers this summer.

The Pixies were supposed to perform in Israel in 2010, but were forced to cancel in the political fallout from the Mavi Marmara raid, in which nine Turkish nationals were killed when the IDF boarded a flotilla heading from Turkey to Gaza.

Related stories:

Both Soundgarden and Pixies will perform as part of new music festival being put together by Israeli producer Shuki Weiss, which will showcase local and international talent at Tel Aviv's Bloomfield Stadium in July 2014.

Soundgarden front man Chris Cornell has played Israel twice, first in 2009 and then again in 2012 with his solo material.

The Pixies were apologetic but resolute when they called off their 2010 Tel Aviv concert.

At the time, the concert's producers received the following message from the band's management: "The decision (to cancel) was not reached easily, and we all know well the Israeli fans have been waiting for this visit for far too long.

"We'd like to extend our deepest apologies to the fans, but events beyond all our control have conspired against us. We can only hope for better days, in which we will finally present the long awaited visit of the Pixies in Israel."

The Pixies are considered one of the most esteemed and influential rock bands of the 1980s and 1990s. Musicians such as Nirvana's Kurt Cobain and Radiohead's Thom York have cited the group as one of their greatest influences.

The band was founded in Boston in 1986 by Black Francis (also known as Frank Black), Kim Deal, David Lovering and Joey Santiago.

The group disbanded in 1993 and reunited in 2004. The various band members continued holding separate careers and have reunited again this year for a joint tour. Last summer bassist Kim Deal performed in Israel with her band The Breeders.

Soundgarden was formed in Seattle, Washington, in 1984 by Cornell. It achieved its biggest success with the 1994 album Superunknown, which earned the grunge pioneers a Grammy for the single Black Hole Sun.