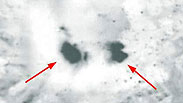 IAF destroys Islamic Jihad munitions factory in Gaza
Photo: IDF Spokesperson Unit
The IDF Spokesperson Unit published videos documenting the Israel Air Force's response to last night's rocket fire into Israel from the Gaza Strip.

The videos show the IAF attacking a Grad rocket launch site and a military compound in Gaza, as well as the ensuing explosions caused by munitions stored within the compound.

IAF destroys Islamic Jihad munitions factory (Video: IDF Spokesperson Unit) (צילום: דובר צה"ל)

At roughly 5:30 am IAF fighter jets attacked the concealed rocket launcher, a munitions storage site, a munitions factory and terror hotspot in the northern part of the strip.

The IDF said that direct hits were confirmed and that the attack was undertaken as a response to the fire of at least five Qassam rockets from Gaza at Israel's communities.

Rocket attack

At least five rockets launched from Gaza Strip. Iron Dome intercepts rockets; none injured. IDF patrolling region to see if additional rockets hit open area

At roughly 1:30 am a Color Red siren was sounded in Ashkelon, followed by distant blast sounds resulting from the Iron Dome interception of the Gaza rockets. No injuries or damage were reported.

The IDF note there seems to be been a growing reluctance by Hamas' willingness to enforce the agreements reached at the end of Operation Pillar of Defense, thus effectively loosening the reigns of smaller more militant groups active in the strip.

The IDF believe that last night's rocket onslaught on Ashkelon was undertaken not by Hamas directly by but rather by the Palestinian Islamic Jihad, a Hamas adversary interested in pushing the IDF into escalating the situation and placing Hamas in a bind.

"The Islamic Jihad is responsible for the launch of six Grad rockets at Israel. A short while afterwards we responded, targeting for targets belonging to the organization," the IDF spokesperson unit said.

"Hamas is responsible for Gaza, it is responsible and will need to decide whether to act or not. Last month it acted less assertively in preserving what was achieved during Operation Pillar of Defense.

"We have the option to increase the severity of our response in accordance to the level of threat posed. We will not tolerate rocket fire at Israel, the IDF views such attacks on our land with the utmost severity and we will continue to ask against all those inflicting terror on Israel."