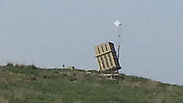 Iron Dome
Photo: Barel Ephraim
At least five rockets were launched from the Gaza Strip in the direction of Ashkelon, at approximately 2 am Thursday. The Iron Dome missile defense system most likely intercepted all rockets.
No injuries or damage were reported.
A red alert siren sounded in and around Ashkelon prior to the interceptions.
Iron Dome in action early Thursday morning (צילום: בני לוי)
The IDF is combing the area to see if another rocket launched at the region had hit an open area.
Israeli aircraft attacked an underground rocket launcher, an ammunition arsenal, an ammunition factory and a terror hub in northern Gaza Strip early Thursday morning in response.
The IDF Spokesperson said that all attacks were direct hits on the intended targets.
Palestinian sources said five people were injured in the attack, four children and a woman, but none was in immediate danger.
On Monday, only a short time after leaders from Israel and the world left the northern Negev ranch where former Prime Minister Ariel Sharon was laid to rest, two rockets were launched at the area. There were no injuries or damage reported.
Yoav Zitun contributed to this report