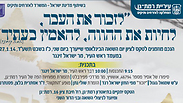 Poster for Ramat Gan remembrance event
The Ministry for Senior Citizens announced Thursday that it canceled its NIS 25,000 ($7,000) support for a remembrance event organized by the city of Ramat Gan for International Holocaust Remembrance Day, after a Ynet report revealed that participants would be charged a NIS 20 ($6) entrance fee, including Holocaust survivors.

According to the ministry, their agreement included a condition that senior citizens would not be charged to attend the event. Minister Uri Orbach called charging survivors a "serious issue, and therefore I ordered to cancel the funding for the event."

Bad Memory

Ramat Gan is planning on charging Shoah survivors NIS 20 to participate in Holocaust ceremony. 'It is unthinkable that a body as wealthy as the Ramat Gan Municipality will charge Holocaust survivors money,' city council member says

Three days ago Ynet revealed that the Ramat Gan Municipality is planning on charging Holocaust survivors an entrance fee to participate in the municipal remeberance service. A poster for the event published by the municipality stressed that only Holocaust survivors and their children could attend the event, but would still have to pay a NIS 20 ($5.73) entrance fee.

In response the Ramat Gan Municipality said that "past experience has taught us that when you give out free tickets, people tend not to feel committed to the being present and then you end up with a half empty hall. In other cases, we have had more people show up than what the hall could hold, and it was a mess. In a bid to prevent either situations, we decided to take a small token fee of NIS 20."

"The event is a large and respectable one and it is funded entirely by the municipality. The token fee is not covering any costs and will be put to good use in aiding survivors."

The statement further noted that "As of now no complaints have been registered. If anyone has payment issues they should contact us and we will assist them."