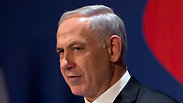 Netanyahu slams EU settlement critics as hypocrites
Photo: EPA
Prime Minister Benjamin Netanyahu dismissed international critics of Israel's West Bank settlements as hypocrites.

Speaking to foreign journalists, Netanyahu said Thursday that claiming settlements were an obstacle to peace was "bogus." Earlier Thursday, Netanyahu made a low-key visit to Jordan where he held spoke with the Jordanians about the peace process currently underway.

"The real issue is not the settlements, is not the Palestinian state. The real issue was and always has been the Jewish state. The persistent refusal to accept a nation-state for the Jewish people by our adversaries, whom we want to turn to peace partners," he said.

International Pressure

Israeli ambassadors to London, Madrid, Paris and Rome summoned by European diplomats who express protest at construction of 1,400 settlements housing units

Netanyahu's comments came after news broke that the European Union summoned Israeli ambassadors to protest the publication of new West Bank construction tenders.

While the Palestinians dropped a longstanding demand that Israel halt all settlement construction when peace talks resumed, they say they received assurances that Israel would show restraint.

Israel's move to release the 104 Palestinian prisoners jailed from before the 1993 Oslo Accords as a goodwill gesture to the Palestinians came in response to right-wing reluctance to accept just such a freeze in settlement construction.

In his comments, Netanyahu took specific aim at the European Union, which has been outspoken in its criticism of settlement construction. On Thursday, several EU countries, including Britain, France and Italy, said they would be summoning local Israeli ambassadors to protest the settlements, Israel's Foreign Ministry said.

Netanyahu questioned why the EU protested the construction of "a few houses," but did not summon Palestinian diplomats over Palestinian misdeeds.

"When did the EU call in the Palestinian ambassadors to complain about the incitement that calls for Israel's destruction?" he said.

"I think it is time to stop this hypocrisy. I think it is time to inject some balance and fairness to this discussion. Because I think this imbalance and this bias against Israel doesn't advance peace," he added. "I think it pushed peace further away because it tells the Palestinians, 'Basically you can do anything you want, say anything you want and you won't be held accountable.'"

Israel has come under heavy criticism for continuing its settlement construction during US-sponsored peace talks but Netanyahu insisted this was "part of the deal" when talks began.