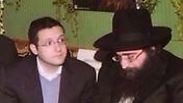 Rabbi Pinto with Ben Zion Suky
Photo: Max Landnoy
As the complicated Pinto affair continues to evolve, Lahav 443 anti-fraud unit Police Commander Menashe Arbiv may not be alone in the bribary scandal. Ynet was told that police have received information alleging that two other officers may have received bribes from Pinto.

One of the officers served in Lahav 443 in the past and he is expected to be called in for questioning. Pinto's representatives asked police to not open an investigation into the second officer, as the rabbi would not testify against him.

Ynet previously learned that three of the main witnesses have already given the police's internal affairs department their testimony, all of which apparently corroborated the claims made by Rabbi Yoshiyahu Pinto according to which he paid the head of the police's Lahav 443 anti-fraud unit Police Commander Menashe Arbiv large sums of money.

Ynet further learned that an additional person who is currently in the US is expected to give his account to the police, also in an attempt to confirm claims that Arbiv received benefits from Rabbi Pinto.

Scandal of Biblical proportions

Gag order lifted: FBI wiretap exposed suspected misconduct by senior policemen, politicians; FBI had bugged Rabbi Pinto as part of investigation into GOP congressman.

Until now, it was only known that the wealthy businessman Ben Zion Suky, who is a close affiliate of the rabbi and has recently arrived in Israel from the US, corroborated Pinto's version of the events. Suky apparently admitted to passing the goods to Arbiv and his family.

Friday it was revealed that Rabbi Pinto's version of the events does not hinge solely on Suky's testimony but also that of three additional people involved in the complicated scandal.

The fourth man is currently in the US and it is possible that the he will be called in to testify as well. A source close to the investigation says he also witnessed the alleged interactions in which Arbiv received the graft.

It is worth noting that as part of the deal reached between State prosecutors and Pinto's lawyers, the testimonies can only be admitted with the rabbi's consent.
Arbiv claims innocence
Despite what seems to be a myriad of claims against him, Police Commander Arbiv maintains his innocence, claiming that all the allegations against him have already been investigated by the police and he was cleared of all wrongdoing.

Lawyer Gideon Fisher, who represents Arbiv claims that he petitioned the Attorney General's office to hold a special meeting next week in a bid to present all his counterclaims. According to Arbiv, some year and a half ago, before he was appointed the head of Lahav 443 – the police's fraud unit – he cut all ties he had with Rabbi Pinto.

"All claims being made against me have already been examined before I was appointed head of Lahav 443," he said. While serving as the police's attaché in the US, his relations with the rabbi was revealed and examined by the Interior Security Ministry together with State prosecutors.
Visa fraud, a rabbi, a congressman & a porn distributer
The story's main protagonist are well known – Rabbi Pinto, Police Commander Arviv and Rep. Michael Grimm – but the middlemen could prove to be the most interesting in this extremely complicated story.

The affair came to light due to an FBI wiretap agreed to by Pinto as part of a settlement with the bureau, after a blackmail complaint filed by Pinto forced the rabbi to testify against Michael Grimm, a New York Republican Congressman and a former FBI agent.

Scandal of Biblical proportions

FBI investigation puts Republican congressman with assistant of influential Rabbi Pinto; assistant now facing embezzlement charges

Grimm was under investigation by the FBI for illegal donations to his 2010 election campaign. Some of the donations reportedly came from sources affiliated with Rabbi Pinto.

Among the middle men already known is businessman Ben Zion Suky. Suky, 35, is an Israeli expat living in New York. He became religious a decade ago and grew increasingly close to Pinto, and soon became one of his chief benefactors. According to reports he even aided that rabbi in purchasing a building in New York. In recent years he has taken part in events organized by the rabbi in which urges Israeli-American businessman to become more devote.

Suky has already been in trouble in the past when he was sued for distributing porn illegally, and his production company troubles saw him in court no small amount of times.

Suky has also said to have relations with Rep. Grimm. In 2010, Suky and his wife gave Grimm's congress campaign $9,600, and the two were allegedly partners in a real-estate project which Suky headed. As part of an FBI investigation, Grimm was investigated regarding possible illegal campaign donations from Pinto affiliates, among others.

An additional name being thrown around regarding the story is Ofer Biton. In August 2012, the New York Times reported that Biton, who is a Pinto aide, was arrested in New York for visa fraud. Five months ago, 40-year-old Biton confessed and received three years probation. According to Pinto, Biton and other affiliates attempted to blackmail him.
Grimm stories
During Rep. Grimm's congressional race he allegedly raised some half a million dollars from Pinto – half of his overall donations, sparking the FBI's initial investigation.

Grimm, born in Brooklyn in 1970, grew up in Queens and enlisted in the US Marines. He fought in 1989 in the First Gulf War, afterwards graduating from university with degrees in accounting and law.

He worked in an investment firm and was then hired by the FBI. He subsequently returned to the business world, and in 2010, he was elected to the House of Representatives as a New York State Republican.

Grimm visited Israel several times, even meeting with Prime Minister Benjamin Netanyahu and Jerusalem Mayor Nir Barkat.

Grimm was supported by top Republicans in his election campaign, including former president George H.W. Bush and former presidential candidate Senator John McCain. Grimm was elected for a second time in 2012, but a New York Times report stained his victory.

The paper said that Grimm was in contact with Ofer Biton, one of Pinto's assistants, in order to raise money for his election from the rabbi's followers.

Grimm, it said, had good reason to turn to the popular rabbi since he needed a great deal of money. Pinto supplied the funds to the Republican incumbent, a Catholic who prays every Sunday in church.

Grimm was able to raise more than half a million dollars – which comprised half of his total fundraising for the election, the FBI revealed.

Biton is being investigated on the suspect of embezzling millions of dollars from Pinto's followers. The New York Times also reported that there were illegal donations that included cash transfers and straw companies. The followers said they gave the money because Biton said Pinto wanted his followers to donate to the politician.

Pinto's spokesman told the Times that the rabbi had met with Grimm but he wasn't aware of the donations. Biton outright denied any connection to raising funds for Grimm.

Despite the denials, the FBI's investigation brought to an arrest of Grimm's former girlfriend on charges of circumventing federal campaign laws to funnel money to Grimm, the New York Daily News reported.

During the FBI's investigation Pinto was asked to testify against Grimm, and as a result Pinto's agreement with the FBI required the rabbi's phone to be wiretapped, and for him to divulge any information regarding financial transactions associated with his Hazon Yeshaya non-profit organization

Kobi Nachshoni also contributed to this report