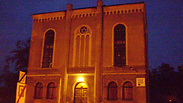 Ancient synagogue in Poland (archives)
Photo courtesy of Beitenu Chai
Historians are preparing a tourist route leading through about 60 old Jewish towns along Poland's border with Belarus and Ukraine.

The effort will include both on-the-ground sightseeing guides available in late 2015 and online tours with 3-D recreations of synagogues and other places that were destroyed in World War II.

Lost Communities

After initiating private documentation of thriving communities in pre-Holocaust Europe through deserted synagogues, Rivka and Ben-Zion Dorfman are donating fruits of their study to Yad Vashem

The "Stetl Route" will include about 20 towns in each of the countries on both sides of the EU's eastern border. Historians from all three countries are gathering material for the 450,000-euro ($610,000) project, which is largely funded by the European Union, its leader said.

Emil Majuk of the Brama Grodzka history center in Lublin, in eastern Poland, told The Associated Press the Internet site will offer descriptions, histories and anecdotes about the towns that were largely Jewish before World War II. Fifteen of them will be shown in 3-D models. On-the-ground sightseeing guides and guidebooks will be available starting in late 2015.

"These are really fantastic little towns, with old architecture and old, multicultural character with their synagogues and Catholic and Orthodox churches," Majuk said.

The 3-D models will recreate the "gems of architecture" that were the region's tiny wooden synagogues, all of which have been destroyed.

The list includes an outstanding town in eastern Poland, Szczebrzeszyn, which has a large, 16th-century Jewish cemetery.

Eastern Europe had a vibrant Jewish life that was almost entirely wiped out in the Holocaust of World War II. Jews constituted 10% of Poland's pre-war population of 35 million, but they were some 50% of Poland's six million war victims.