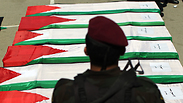 Remains transfer in 2012
Photo: EPA
After repeated denials and attempts to minimize the agreement, Israel on Sunday night began transferring the remains of 36 Palestinian terrorists, who were previously buried in a special cemetery for enemy casualties. The bodies were transferred to the Palestinian Authority, which was to forward them to the relatives.

The agreement on the remains, originally revealed by Ynet, was only obtained after an appeal was submitted to the High Court of Justice by families of the deceased terrorists with the help of Israeli organizations. In the last few weeks the relatives provided DNA samples to complete the identification of the remains.

Related stories:

The first body, of Majdi Henfer, was handed over Sunday night, through Sha'ar Efraim crossing into the West Bank on the way to his final resting place. Henfer, a resident of a village south of Jenin, was killed in 2002 in firefight with a Border Guard force near Baqa al-Gharbiyye. A Border Guard soldier, Constantine Danilov, was killed in the action.

Palestinian sources told Ynet that on Tuesday two more Palestinian remains will be handed over, Fathi Amira from Nablus (killed with Henfer) and Atta Samachna from Tubas, killed in 2004.

The issue of remains is a burden on Israel, and Jerusalem is interested in solving the matter by transferring them to the Palestinians. In the last year Israel transferred 91 bodies of terrorists to the Palestinians, as a gesture of good will. Twelve bodies were moved to the Gaza Strip and 79 placed in the West Bank.

Among the bodies returned was the terrorist who blew up the Café Hillel in 1993 and the terrorists killed in the takeover of the Savoy Hotel in 1975.

The agreement was criticized by bereaved families in Israel. "Did my daughter die in vain? Just another number in the statistics?" said Ron Kerman from Haifa on the intention to return the body of the suicide bomber who blew up on a bus in the city, killing Kerman's daughter and 16 others in March 2003.

"If these talks led to an agreement, we could release and return (the bodies) as part of an agreement, but this is nothing. Just talks."